Blackford speaks to Trumann Lions Club
Monday, January 28, 2013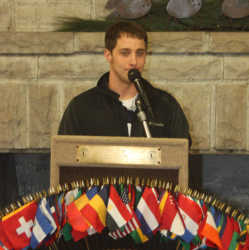 John Blackford, the new Associate Pastor at First Baptist Church Trumann was the guest speaker last Wednesday at the Trumann Lions Club weekly meeting. Blackford will also be the Youth Pastor as the church.
Blackford grew up in Marion and was like most kids, he wanted the best clothes, hang out with the coolest kids and be friends with all the girls. He came to know the Lord his freshman year in high school. At a revival before his sophomore year, he said, "The Lord told me I was going in the wrong direction and I gave my life to him that night." As his new found faith grew, Blackford struggled with what he wanted to do with his life. He had a friend suggest he surrender to the ministry. Blackford told him, "I don't know" as he had plans to attend the University of Arkansas after high school.
After visiting Williams Baptist College (WBC) Blackford felt this is where God wanted him to go to school. Blackford enrolled at WBC after his graduation from Marion in 2008. "I figured I'd enroll, major undecided, and just see how it goes and probably end up getting a degree in business administration." Blackford told that God laid it on his heart with Jeremiah 29:11, "I know the plans I have for your life." Blackford surrendered to the ministry and set his goal on becoming a youth pastor.
After coming back home and sharing his news with his church family, Blackford declared his major the next week for the ministry. Blackford said he continued to grow in his ministry at WBC with internships and directory positions as the Lord continued to work in his life.
While at WBC, Blackford met his future wife, Mallarie. Mallarie was on a full softball scholarship and they began dating during his junior year. The couple were wed in early January of this year.
Blackford ended with saying, "All the times I passed through Trumann and saw the Welcome to Trumann sign, God did know the plans he had for me and it was to bring me to First Baptist Church Trumann. I'm excited and looking forward to good things to come."