Willard reaches milestone as Lady 'Jackets cruise
Friday, February 1, 2013
The Bay Lady Yellowjackets (18-7, 8-2 1A-3 East) jumped out to a 18-9 first period lead as they went on to post a 55-36 win over Ridgefield Christain School (RCS) last Thursday night in Bay. Senior Hannah Willard of Bay surpassed the 1,500 point mark in her career on the night.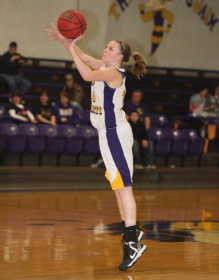 The teams traded baskets with neither building more than a four point lead. Bay went on a 6-0 run with a little over three minutes in the period to take a 15-8 lead. Sara Sharp started that run by hitting one of two free throws after being fouled. Willard hit two free shots and Katie Ferguson ended the run with with a jumper while being fouled. Ferguson's free throw gave Bay a seven point lead. Sharp hit a three from the left wing to set our first period score at 18-9.
Bay opened the second period with a 9-3 run to push their lead to 27-12. Ferguson and Jade Presley both drilled three-pointers during the Lady 'Jackets run. Bay closed the period scoring the last seven points as Brittany Roedel drained a three from the left corner before making two free throws. Shelby Lynch scored inside with 36 seconds left to give Bay a 34-17 lead at half.
Bay outscored RCS 9-8 in a slow slugging third period. Willard had the hot hand for Bay as she scored eight of those points. Willard opened the period bombing in a three-pointer from the left wing and closed the period with another three-point bomb from the left wing. Bay led 43-25 after three periods of play.
Willard's jumper with 5:28 left gave Bay a 21 point lead at 48-27. The Lady 'Jackets hit five of six free throws down the stretch as they went on to a 55-36 win.
"We didn't play as hard as we could but played good enough to win," Bay coach Chad LaRose said after the game. "We gave up some early easy baskets but we buckled down on defense. We still need to get a little more consistent in scoring," LaRose added.
Willard led all scorers with 16 points for Bay. Ferguson pitched in 10 points on the night.