Bay stays perfect in conference play
Friday, February 1, 2013
Bay remained perfect in 1A-3 East conference play this past Tuesday night with a 67-45 win over the Weiner Cardinals. Bay stands at 29-4 on the year and 12-0 in conference play.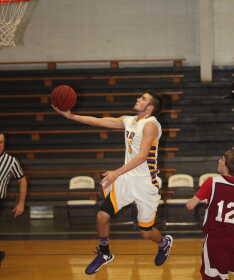 Bay raced out to a 12-4 lead before the Cardinals started to claw their way back in it. Zack Johnson scored five points of those first 12 points for Bay. Weiner responded with a 13-5 run to make it a 19-17 game after the first period. Brad Craft scored four during the Weiner run.
Weiner missed three straight free throws to open the second period before Bay got hot and reeled off 12 straight points to go up 31-17. Bay's Will Turner canned a couple three-pointers during the outburst. Craft stopped the scoring frenzy as he got his own rebound and scored to make it 31-19 with 3:02 left before half. Asa Walker and Alex Nicholson made baskets to cut the lead to eight before Tyson Oliver hit a jumper with four seconds left to make it 33-23 Bay at the half.
Dylan Loven, scoreless in the first half, opened the third with an inside basket for Bay to push the lead to 35-23. Craft and Nicholson cut the lead to eight with back to back baskets making it 35-27. Bay reeled off eight straight points with Matt Holt, Kylor Skaggs and Oliver providing the scoring to put Bay up 43-27. The Yellowjackets outscored the Cardinals 12-7 the reminder of the period to go up 55-34. Loven scored seven in the period for Bay.
Loven and Oliver scored all the points for Bay in the final frame. Loven scored two baskets and made three free throws for seven points as Oliver hit a floater in the lane and drilled a three-pointer. Nicholson scored four points and Drake Melton had three to try to keep Weiner in the game.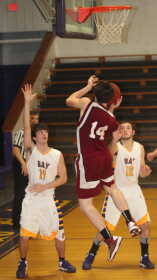 "We didn't come out mentally ready to play and when they came back on us I think we kind of whined a little," Bay coach Brad Brannen said of his team's play. "The second half the mental toughness came out and we did the things we were suppose to do. We did the little things, we played good defense, we blocked out, we went to the offensive boards and quit turning the ball over, that was the difference in the second half," Brannen added.
Oliver had a game high 21 points for Bay to go along with 10 rebounds. Loven netted 12 points and Johnson had 10. Holt grabbed 12 rebounds on the night.
"We played hard tonight, kept it to 10 at the half," Weiner coach James Halitzka said after the game. "Third quarter we let it get away from us, tried to hard and got to aggressive on offense. We did good on the offensive boards but we have to do a better job getting back on defense," Halitzka added.
Nicholson led the Cardinals with 13 points.
Bay won the junior high game 45-15.