Trumann Lions celebrate 83 years
Friday, February 1, 2013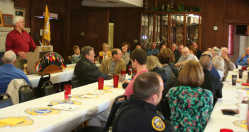 Since Jan. 25, 1930, the Trumann Lions Club has been meeting every week in the Community House. Last week, Lions members and guests filled the Community House to celebrate the club's 83rd birthday.
Club President Ronnie Harrison began the meeting by recognizing some of the longest-serving members present. Charles Montgomery has been a member for 63 years, Bill Teague has been a member for 47 years, and Wayne Hinds has been a member for 41 years. Teague has also run the club's barbecue fundraiser for the past 36 years.
Among the Trumann Lions' community projects is a vision program that provides glasses to children. Angela Howell, who has been a Lion in various clubs since 1990 before coming to Trumann, said the club helps around 100 people a year with vision problems.
"There are always people who need help," Ronnie Harrison said. "That's what we're here for."
The Lions also do a golf tournament every year to fund scholarships. This year's tournament will be April 20.
Several members reminisced about the club in years past, including Bill Teague, who talked about the club's 50th anniversary when the Lions International President visited. Students served around 129 members in the cafeteria that day. "We were young," Teague said. "We had that magic to make things happen."
Several guests expressed their appreciation for the club. "You are an important part of the community," said Trumann Police Chief Chad Henson. "The way you treat each other is contagious. When I first came here, I was told there are a lot of good people in Trumann. I think a lot of them are in this room."
Lions Club International was started in 1917 by Melvin Jones, a Chicago businessman who had a vision of businesspeople coming together to improve their communities. The Lions motto is "We Serve."