Marked Tree senior looking forward to college
Monday, February 4, 2013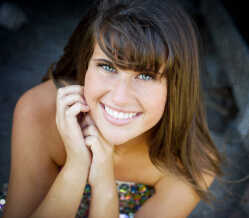 Abby Beck, a senior at Marked Tree High School and daughter of Jim and Susan Beck, has shown outstanding academic achievement with a grade point average of 4.12. Beck ranks second in the Marked Tree Class of 2013. Her GPA reflects Advanced Placement courses she is currently taking in order to better prepare for college.
"As far as I can remember, Ive been motivated to make A's," said Beck. "My mom and dad dont ever push me, because they know I do my best anyways and I want to always make them proud."
Although Beck has received scholarship offers at Lyon College, University of Central Arkansas, and Arkansas State University, she has decided to attend Lyon.
"It has a small population, with smaller classes helping the student get to know their peers and professors better," said Beck. "I think it has more of a hometown feel, and thats exactly what Im used to coming from Marked Tree."
Although she is still unsure of what her major in college will be, Beck is leaning toward teaching Chemistry.
"One of the most inspiring persons in my life was a teacher, Katie Tacker," she said. "She was like my second mom, because she was one of my moms best friends."
Tacker was Beck's second grade teacher that stayed with her throughout her whole life. Beck's only conflict with going into the field of education is seeing what Tacker went through as an educator.
"She always told me she would be mad at me for being a teacher, because I could do something more," said Beck. "I guess that's the reason I haven't really buckled down on the education route; but at the same time, it's the reason I am interested in it. She had a big influence on my life and was one of the best teachers anyone could ever have."
Throughout her high school years at Marked Tree High, Beck has been involved in athletics such as softball and tennis. To challenge her critical thinking skills, she has been a part of the Gifted and Talented program and quiz bowl.
Recently, Beck participated in WREG's channel 3 Knowledge Bowl as co-captain for the Marked Tree High School team. In a Jeopardy-like setting, she played on a four-player team answering scholarly questions. The competition aired on television on the morning of Dec. 8.
"I really enjoyed the experience of the competition," said Beck. "It was the first time I had ever done anything like that."
To contribute to her community, Beck is a part of the Community Service Club. She has been an active member for two years. Her spring break this year will be spent in Joplin, Mo., to help the people affected by the May 2011 tornado rebuild their lives and homes.
After college, she plans to stay in the small town environment of Marked Tree and continue to contribute to the community.