Nyal Drug Store serves community for over 100 years
Saturday, February 2, 2013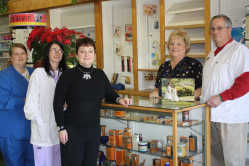 The first drug store in Marked Tree was established by Dr. J.R. Black in 1892. Almost 20 years later, he established the store as the Nyal Drug Store, located in the center of the downtown business area. The name stemmed from the namebrand of most over the counter medicines at the time. E.L Shinaberry, Jr., purchased the Nyal in 1954, beginning a family interest in the pharmaceutical business.
Shinaberry, or locally known as Shinny, was Marked Tree's first pharmacist to hold a Bachelor of Science Degree. His interest in the business brewed from working as a young man in a pharmacy as a soda jerk and clerk. He and his wife, Marie, had five children, all of which went on the be pharmacists.
The Nyal is now owned by Randy Shinaberry, Shinny's son, and his wife, Becky. Shinaberry is the oldest of the five Shinaberry children. According to Shinaberry, he took over in 1992 after working for his father since 1974.
"I had just always watched my dad, and wanted to become a pharmacist," said Shinaberry. "I had no idea I would come back to Marked Tree after school, though."
He had graduated from the Tennessee Pharmacy School in 1974, and worked for Skaggs pharmacy in Memphis until coming to help his father later on in the year.
"As a boy, Randy sold popcorn outside the Nyal on Saturdays, because the street was just filled with people," said Shinaberry's wife recalling some of her favorite memories in the pharmacy.
Becky also said that during her junior high and high school years, she remembers an old soda fountain being one of the best things about the pharmacy.
"There was always noise on this street, and in the pharmacy, kids would play on the old pinball machine and grab a soda," said Becky.
When asked why the pharmacy has lasted so long in the small town of Marked Tree, the Shinaberrys said it was the community.
"In a small town, everybody loves everybody," said Becky. "Marked Tree has a really good environment."
The community has rallied behind the Shinaberrys through loss and hard times. Shinaberry said that most of the community feels comfortable with calling him for advice concerning their health.
"Personal service and recognition with customers means more than anything," he said.
Shinaberry and his wife have a son, Lee Shinaberry, in the pharmacy business. Lee owns Shinaberry's Community Pharmacy in Jonesboro.
The Shinaberrys are all proud of their unique history in the town of Marked Tree, and look forward to serving the community and those around it for many years to come.