Wildcats battle Blazers in Senior Night contest
Thursday, February 7, 2013
Trumann honored seven members of their basketball team before their game with Valley View. Nathan Maxwell, Cameron Jones, Denzel Brown, Jacob Brumley, Matthew Montgomery, DeQuantez Lawless and Trevar Dye played their last game at Wildcat Den this past Friday night. Valley View jumped out early on the Wildcats and went on to claim the 4A-3 contest 56-48.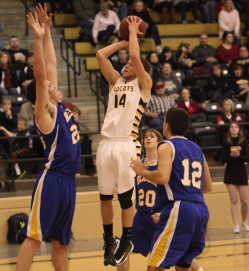 "This group is going to be missed. They've worked their guts out for me," Trumann coach Skip Dulaney said of his seniors.
Brumley scored the first points of the game with an inside basket for a 2-0 Wildcats lead. The Blazers scored back to back baskets before Jones tied it at 4 with 6:15 left. A.J. Winningham got Trumann to within one with a three-pointer to make it 8-7. This was the closest Trumann would be for the rest of the game. Valley View went on an 8-0 run to open the lead to 16-7. Jones hit a free throw and Maxwell scored inside to cut it to 16-10. Valley View had a 18-10 lead after one period of play.
The Wildcats fell behind 21-10 before Winningham hit a base line jumper to make it 21-12 Valley View. Jones made a free throw and Winningham hit two free shots to pull the Wildcats to within six at 21-15. Valley View went on a 7-2 run to end the quarter and take a 28-17 halftime lead. Westen Gilliam hit a nice reverse lay up to stop the Blazer run.
The Wildcats kept clawing and outscored the Blazers 15-10 to cut the lead to six after three periods of play. The Wildcats used a 10-3 run with Maxwell and Winningham both scoring four points each during the run. Jones and Winningham combined to make three of four free throws in the last minute to cut the lead to 38-32 going into the fourth period.
The last period saw the Blazers outscore the Wildcats 18-16 on the way to the win. Valley View opened with an 8-0 run to stretch the lead to 14 at 46-32. Winningham stopped the run with a three from the left corner at 5:55 making it 46-35. Trumann's 9-3 run to end the game could only get them to within eight as the Blazers posted a 56-48 win. Maxwell scored six and Grayson Dye four in the period.
"I didn't think we played very well, gave up entirely to many rebounds," Dulaney said after the game. "We had a tough night offensively," Dulaney added.
Winningham led the Wildcats (7-15, 4-9) in scoring with 16 points. Maxwell finished with 12 points for the Wildcats.