Lady Indians' late surge topples Rivercrest girls
Thursday, February 7, 2013
Marked Tree's Lady Indians used a 21-6 fourth period to erase a 10 point deficit and claim a 62-57 win over the Lady Colts of Rivercrest this past Tuesday night in Marked Tree.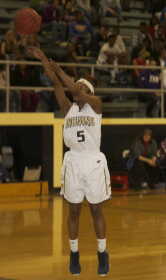 The opening period saw Marked Tree come out and have a good offensive quarter as they took a 19-14 lead with Jay Perry leading the way with eight points in the period as she hit a couple three-point shots. Poohnu Perry added six in the period too.
The Lady Colts rebounded by outscoring Marked Tree 23-8 in the second period to take a 10 point lead into half time at 37-27. Poohnu and Kambria Marshall accounted for all the scoring in the second as each had four points.
The third period was evenly matched as both teams scored 14 points in the period as Rivercrest maintained their 10 point lead. The Lady Colts went up 16 with 2:08 left before the Lady Indians closed out the period with a 6-0 run to make it 51-41 Rivercrest. Poohnu Perry, Marshall and Jay Perry each had a basket during the Marked Tree run.
Marked Tree continued that scoring run as they reeled off seven straight points to start the final period and pull to within 51-48. Lexi Perry got inside to score, Peyton Carter canned a three for her first points of the game and Poohnu Perry got free for a lay up. The Lady Colts got a basket to stop the run only to see the Lady Indians make a 9-0 run to take the lead at 57-53. Carter and Poohnu Perry both hit baskets and Poohnu Perry, Jay Perry and Caflora Hillis combined to make five of eight free throws during the run. Lexi Perry grabbed an offensive rebound and scored to make it 59-55 with just over two minutes left. The Lady Indians got two free throws from Jay Perry and one from Hillis in the last minute to make the final 62-57.
Coach Derik Drewett had to leave immediately following the game as his Junior Lady Indians were set to play in the 2A-3 junior district tourney therefore this reporter was unable to get any comments after the game.
Poohnu Perry led the Lady Indians on the night with 21 points. Jay Perry netted 16 for Marked Tree. Poohnu dished out eight assists and Lexi Perry grabbed 16 rebounds.