Ivy headed to next level after signing with Missouri State
Thursday, February 7, 2013
Marked Tree's Darius Ivy made it official Thursday as the signed his letter of intent to continue his football career with the Missouri State Bears in Springfield.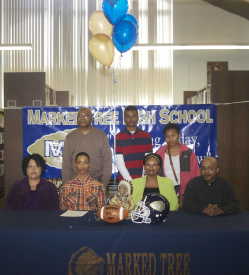 "It's exciting, all my hard work has paid off and I get to play at the next level," were the first words Ivy said after signing his letter of intent.
Ivy is being recruited as an athlete and could play either in the defensive or offensive backfield, but will return kickoffs for the Bears this fall.
"The vibe I got from visiting was just like being home," Ivy said. "I'm just blessed and humbled for this opportunity and to be close enough for my family and friends to come watch me play," Ivy added.
Ivy also considered going to Central Arkansas and Ouachita Baptist.
Ivy was a three-time all conference selection and was all-state following his junior year. This past season Ivy ran for 1433 yards and scored 20 touchdowns. On the defensive side he recorded 27 tackles and had two interceptions. Ivy is Marked Tree coach Waylon Dunn's first player to sign for a D-1 school and had nothing but praise for his player. "He's meant so much to our program and we are going to miss his leadership, it's going to be a big loss," Dunn said. Dunn also spoke about Ivy's character in saying, "His character is what makes him! It's hard in this day and time to find a kid who does the right thing when no one is watching."
Ivy said the last couple days have been a nervous time. "I didn't sleep much last night but my family and friends have been so supportive and I want to thank them for that."