Tyronza citizens give input on senior center
Friday, February 8, 2013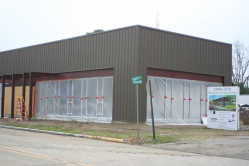 The Tyronza community held a public meeting on Tuesday, Jan. 29, to discuss the progress and ideas for the new Senior Citizen's Center. The center has been in the works for over four years. Citizens are beginning to see the end of the process with March 1 being the given date for the finished product. Tyronza Mayor Marion Bearden said that the USDA and Rural Services required the public meeting.
"This is a very informal meeting, I want everyone to express their thoughts on what they would like to see the building become," said Bearden.
The building was funded entirely by grant money; however, at the beginning of October of 2012, the city began to raise money to be used for the benefit of the center. Bearden said there was an extra dollar added onto each water bill, with citizens having the option to pay it or opt out. With the water bill collection, the center will start out with a healthy amount of money for activities, food, and other expenses.
"Many people have expressed interest in exercise activity taking place at the center," said Bearden. "Fortunately, I believe we will able to buy exercise equipment."
After Bearden opened the floor to anyone with ideas or concerns on the project, the issue of food service was brought into the discussion. Bearden said many senior centers in Poinsett County are served by the East Arkansas Area Agency on Aging, and asked if it was something that would interest the citizens planning to be active with the center.
"I believe we need to start off with a potluck or something small, just to begin it on our own," said Linda Hinton, a Tyronza citizen. "We need to start slow."
Many agreed with Hinton's idea.
"It's important that we take into consideration our needs," said Bearden. "While we may look at the other centers in the area for ideas, we need what's best for Tyronza and our needs."
Freda Kirk, another citizen of Tyronza, showed concerns for the cleaning and maintaining of the building. The mayor said they are looking at options for help without it costing the center anything.
"We have options like workforce or volunteers, but hopefully, we take enough pride in it to take care of it," said Bearden.
When asked what kinds of activities should be offered for the senior citizens, the room started flowing with ideas. Ideas mentioned involved: beginner's computer class, Wii Bowling, quilting and knitting classes, art class, and scrapbooking.
"For our gardeners, we have a nice area on the backside of the building that could be used," said Mayor Bearden.
With the end near, many of the citizens were filled with excitement over the prospect of the new things to come.