Paulsen wins County Spelling Bee
Sunday, February 10, 2013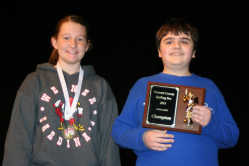 Seventh grader Trevor Paulsen of Harrisburg won the Poinsett County Spelling Bee, held in Trumann last week, for the second year in a row. This is Paulsen's third year participating in the spelling bee.
Last year, Paulsen won the state spelling bee in Little and went on to participate in the Scripps National Spelling Bee in Washington, D.C.
Paulsen said one of the things he had learned since last year's bees was the importance of knowing word origins. "Word origins matter more," Paulsen said. "Sometimes it's about memorization of words. Sometimes it's more about word origins and patterns." Paulsen explained that while it is difficult to memorize every word, being able to recognize word origins and spelling patterns can greatly help in spelling words he might be less familiar with.
The final word Paulsen spelled for the win was "grandiloquence," which means "a lofty, extravagantly colorful, pompous, or bombastic style, manner, or quality, especially in language," according to the Merriam-Webster dictionary.
Paulsen said he stayed calm during the final word. "With any big word I'm scared, but then I think, 'I know this word.' I spelled through it. I was also a bit more laid back because I knew if I missed it I would continue for another round," he said. Once a spelling bee gets down to the last contestants, the final constestant remaining at the end of a round must go through a championship round alone to spell a word. If that word is missed, the contestants knocked out the previous round return for a new round. To win, one must correctly spell two words in a row, so if the second word is missed, the bee continues.
Paulsen said he is excited to return to the state bee this year, calling Little Rock a chaotic city. "I think I've been studying more, mainly because last year, getting quite high up made me want to study more," he said.
The first runner-up in the County Spelling Bee was sixth grader Kristen Vanaman of Weiner.