Lady Wildcats downed in district tourney
Friday, February 15, 2013
The Trumann Lady Wildcats had their season come to end this past Monday night as they fell to Gosnell Lady Pirates 70-52 in the 4A-3 district tournament in Brookland.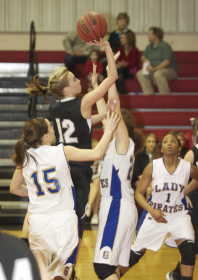 Gosnell opened the game with a 12-2 run on their way to a 17-6 first period. Morgan Taylor, Kali Bo Conaway and Taelor Gartman each scored a basket in the opening period for Trumann.
Trumann played better offensively in the second period but Gosnell had an answer each time as the Lady Pirates outscored the Lady Wildcats 16-14 to take a 33-20 lead at the half. Taylor had six points in the period and Gartman tossed in four to keep Trumann in the game.
The teams traded baskets to open the third period before Gosnell went on a 13-0 run to take a commanding 49-24 lead. Conaway scored inside with just under three minutes left and Megan McGowan hit a three-pointer with about a minute remaining to cut the lead to 51-29 after three periods of play.
Trumann outscored Gosnell 21-19 in the final period but it was a little to late. Shutavain Jones hit a three-pointer to make it 54-33. Kelly Guthrie hit two free throws and Taylor hit a jumper in the lane to make it 64-42 Gosnell with 2:36 left in the game. Taylor scored the next five points Trumann to make it a 66-47 game. Guthrie hit a three and Jones got a jumper to sink to set the final at 50-52 Gosnell.
Taylor led the Wildcats in scoring with 17 points as Jones added 13 for the Lady Wildcats.