Bay girls top Trumann in Senior Night victory
Friday, February 15, 2013
The Bay Lady Yellowjackets (20-8) hosted the Trumann Lady Wildcats this past Friday night as it was Senior Night at Bay. Bay honored Hannah Willard, Sara Sharp, Shelby Lynch, Jade Presley and Brianna Fletcher. The Lady 'Jackets led 15-9 after one, 37-18 at the half, 51-25 after three before going on to post a 66-30 victory.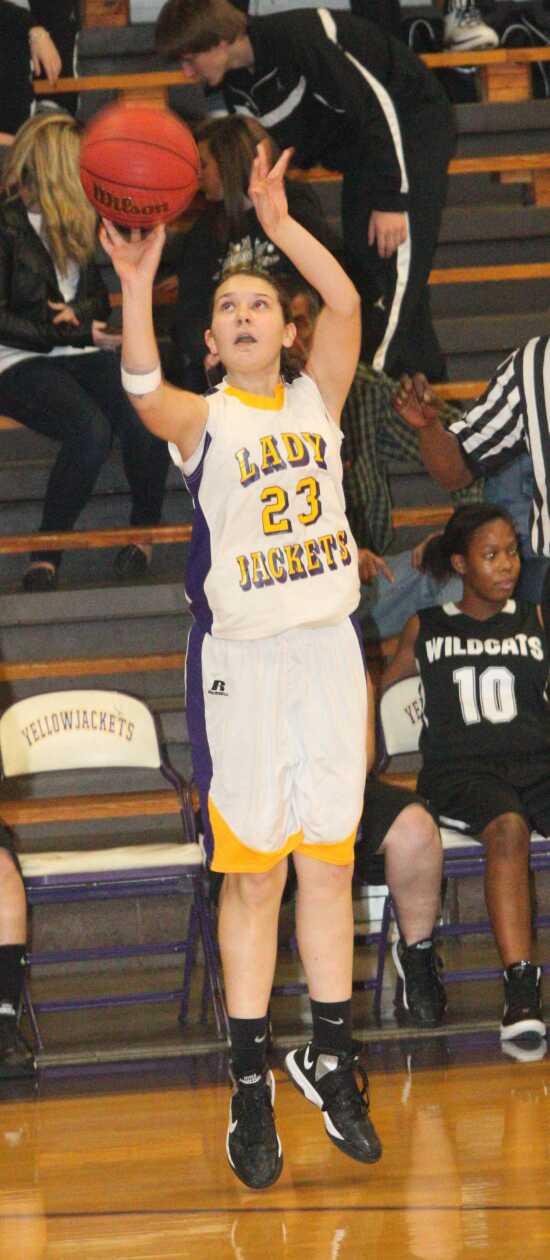 "This is a good group, we kept our emotions in check with this being a special day for the girls," Bay coach Chad LaRose said after the game.
Bay jumped out to a 10-3 behind five points from Willard. Kelly Guthrie had the Lady Wildcats only points early for Trumann as she opened the game with a three. Taelor Gartman and Sharp swapped baskets to make it 12-5. Trumann got baskets from Kali Bo Conaway and Amber Kent to pull Trumann to within 12-9 but Katie Ferguson hit a three at buzzer for Bay to make it 15-9.
The teams traded baskets in the first minute and a half of the second period making it 19-14 Bay before Bay went on a 9-0 to open up a 28-14 lead. Ferguson had four points during the run for Bay. Megan McGowan stopped the run with a three-ball to make it 28-17. Ferguson and Conaway traded a free throw each before Bay ended the period with an 8-0 making it 38-17 at half. Ferguson had 10 points in the period for Bay.
Ferguson kept the hot hand as she scored six points as Bay opened the first half of the third period with an 8-3 run to take a 45-21 lead. The teams traded baskets the rest of the period with McGowan and Conaway scoring for Trumann and Willard and Sharp both hitting three-pointers for Bay to set the score after three to 51-25 Lady 'Jackets.
Bay scored the first six of the final period to invoke the mercy rule going up 57-25. Sharp, Willard and Lynch each had two in the run. Guthrie and Willard traded three-pointers to make it 60-28. Desarae Harris scored inside with just under two minutes for Trumann's final points making it 60-30. Freshman Emily Timms and Brittany Roedel both canned three-pointers to put the final at 66-30 Bay.
Ferguson led all scorers on the night with 20 points for Bay. Sharp added 18 points and Willard 17 points for the Lady 'Jackets.
"This was our second good game in a row," LaRose said of his team after the game.
Trumann was led by Kelly Guthrie with nine points.