Wildcats beat Blazers in district opener
Friday, February 15, 2013
Seventh-seeded Trumann (8-17) and sixth-seeded Valley View met in the first round of the 4A-3 district tournament being held in Brookland this past Monday night. Valley View led 14-10 after one, 25-23 at halftime and 36-35 at then end of three before the Wildcats used a 24-15 final period to post a 59-51 win and advance to round two of the tournament.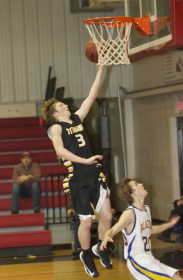 "We played tonight like we wanted to win at the end instead of trying to not get beat," Trumann Coach Skip Dulaney said after the game.
The Blazers jumped out to a 4-0 lead before Grayson Dye drilled a three from the right wing to make it 4-3. Nate Maxwell scored to make it 6-5 only to see Valley View get back to back scores to go up 10-5 with 4:52 left in the first. Maxwell hit two free throws to make it 10-7 before the Blazers again get back to back baskets making it 14-7. A.J. Winningham nailed a three with just over a minute left to set our first period score at 14-10.
Cameron Jones made it 14-12 with a lay up to start the second period. Winningham hit a jumper after a Blazer score to make it 16-14. Dye answered a Valley View three with a three of his own at the 5:26 mark to make it 19-17. Jones was fouled and hit two free throws to tie the game at 19. Jones hit two more free throws at 1:49 to tie the game again at 21 before hitting a jumper with just over a minute left to once again tie the game at 23. Valley View got a scored before and took a 25-23 lead to the locker rooms.
The third period was much like the second period with the teams trading baskets and the biggest lead being four points in the period. Dye tied the game to start the period with an inside basket to make it 25-25. Winningham drilled a three-pointer from the left corner to tie the game at 28 with 6:03 left. The Blazers hit back to back shot before Winningham sank two free throws after being fouled and Dye scored inside again to make it a 32-32 game. The Blazers again got back to back scores to go up 36-32 before Winningham canned a three with three seconds left in the period to make it 36-35 heading into the final period.
Dye had a steal and layup to cut the Valley View lead to 39-37 less than a minute into the fourth period. Winningham answered a Blazer basket with a three-ball from the left corner to make it 41-40 Blazers. Maxwell scored inside and Dye hit two free throws to give Trumann their first lead of the game at 44-43. Dye came up with another steal and layup before making a three-pointer from the left corner to put Trumann up 49-46. Valley View cut the lead to one at 49-48 before Trumann scored the next 10 points hitting 10-12 free throws. Jones and Dye each made four free throws as Maxwell hit two to make it 59-48. Valley View hit a meaningless three with three seconds left to set the final at 59-51.
"We had great team effort tonight and played team ball in the second half," Dulaney said of his team.
Dye led the way for Trumann with 23 points on the night. Winningham finished with 16 points as Jones scored 12 for the Wildcats. Jones and Maxwell both had 10 rebounds for Trumann.