Couple experiences first Valentine's Day married
Friday, February 15, 2013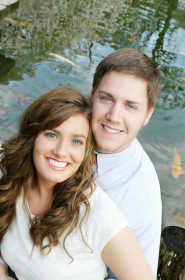 Colton and Morgan Turner of Trumann are spending their first Valentine's Day as a married couple after a hard turn of events within this last year. The Turners recently married on Dec. 22.
Their original wedding plans were set for August of 2012, but a near fatal accident in June left Morgan unconscious for three weeks postponing their plans to marry.
In December, ready to spend their first Christmas together in their own home, Morgan McKenzie became Morgan Turner at a small intimate ceremony with close relatives only.
The wreck has not been the only hindrance in their short marriage. Recently, they have had to endure their house burning only a month after being married.
"Obviously, we have been dealt a rough hand, but God has been with us every step of the way," said Morgan.
After everything that has happened, she described their biggest strength as a couple being their toughness.
"We've been through a lot for a couple that has just been married a month and a half," she said. "And while it is sad, we know that nothing can ever shake us."
When asked what inspired such love and devotion within their marriage, the Turners said they look up to Morgan's parents, Rick and Tanya McKenzie. Colton described his own relationship as steady, but fun even in the midst of their hardships.
They both enjoy being youth leaders at Shepard's Heart Church in Jonesboro and making memories. They also both attend Arkansas State University where Colton is working towards being a football coach, and Morgan is working toward law school.
"Our experiences have taught us to not be too obsessed with planning, but to live each day as it comes," said Colton.
Last Valentine's Day was one of their more exciting ones. At the time, they had recently got engaged on Feb. 11. This year, they don't have really big plans except for usual Valentine's Day surprise.
Although this couple is just starting out, they have already demonstrated the strength and love in their relationship that it takes to make a marriage last a lifetime. This Valentine's Day, everyone can take a little something from this couple's love story.
"God makes husband and wife for each other. He plans it. You can definitely see that with us," said Morgan. "He is very laid back and I am a perfectionist. He is fly by the seat of his pants and I am very cautious. Together, we meet in the middle for a perfect mix."