Lion's club hears from student volunteer
Monday, February 18, 2013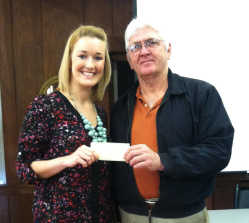 The Trumann Lion's Club had Ellesse Boiwka, a student at the Southern College of Optometry in Memphis, as a guest speaker on Wednesday, Feb. 6. Boiwka works with SVOSH, a volunteer organization at the college that goes abroad and gives free eye exams to those in need. She gave a detailed explanation to the Lion's Club of how they have aided the program with their eyeglasses donations.
"Through the Lion's Club, many students get to go abroad and give these free eye exams to those in need," said Boiwka. "A lot of times these children have never had eye exams before. With our partnership, we are allowing them to see clarity for the first time."
Boiwka has recently visited Belarus where the students treated 300 to 600 patients a day for five days. As a student, she must raise $1,500, spend 30 hours participating in group fundraisers, and work 30 hours in a lab sorting and cleaning donated glasses to go on the trip to benefit the underprivileged.
"We use the glasses that the Lion's Club gathers generally, and we restore them to be acceptable for the people abroad," said Boiwka.
She said the whole program is a win-win for everybody with the students going abroad and gaining experience, and the Lion's Club dedication to community service being used to it's fullest potential.
The Lion's Club in the U.S. sponsors travel for the students and optometrists, donates the materials, collect used glasses, and arrange clinic screenings in the U.S. While helping worldwide, Boiwka said the Lion's Club Abroad arranges room and board for the students and staff, and sponsors clinic advertisement, facilities, and volunteers.
"Typically during the eye exam days, we do visual activities, determine the prescription and look into the back of the eye to check ocular health, then dispense glasses," said Boiwka. "Sometimes it is necessary to make referrals to the doctor."
Boiwka thanked the Lion's Club for their support and the great donations that they make to help the SVOSH cause.
At the end of her presentation, Club President Ronnie Harrison presented Boiwka with a check for SVOSH to aid her and other students in their work abroad.
"We wish we could do more. We appreciate you and all you have done," said Harrison.