Chamber hosts Afterhours event
Saturday, February 16, 2013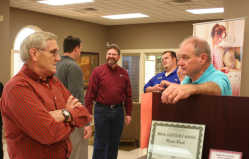 Several Trumann business leaders met at Unico Bank last week for the Trumann Chamber of Commerce's first Afterhours event of the year.
Chamber President Neal Vickers talked about the importance of grassroots movements in Trumann, citing the effort that got notebook computers for students in Trumann schools as one example. "What an advantage this gives our students and what a difference it gives them when they become employees," Vickers said.
Jim Franklin with Unico Bank said 2013 would be a year of rededication of the Chamber of Commerce to the community.
"Trumann deserves all the businesses we have," Vickers said. "We thank the community for your support. The Chamber is here to help and grow your business."
Economic Development Director Barabara Lewallen talked about grants the city has gotten through the work of the Chamber and the efforts of numerous volunteers, including a $789,430 grant to construct a detention pond to help with flooding. She said an engineering firm had been picked and construction should be complete later this year.
She also mentioned the future Sims/Talbot Adult Training and Education Center, which received an initial donation from Jerry Sims and Patty Sims Swinford of $250,000. A General Improvement Fund grant of $82,500 and a Delta Regional Authority grant of $206,000 have also been contributed to the project, along with $800 raised by the Trumann graduating class of 1962's Friday Night at the Show.
"It was all started by the Chamber, but of course it takes the city," Lewallen said. "It's a partnership."