Akin talks senior care at Rotary
Tuesday, February 19, 2013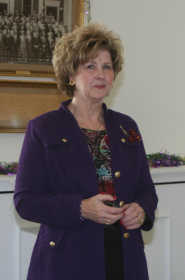 Sarah Akin and Michael Dickerson with Home Instead Senior Care were guest speakers at last week's Marked Tree Rotary Club meeting.
Home Instead Senior Care is a franchised organisation based in Nebraska. It was founded in 1994 by the Manhart family after they experienced the struggle of juggling a caregiving schedule for their grandmother Eleanor.
Akin, who is a Client Care Consultant, said Home Instead does not provide medical services but instead acts as an extension of the family. "We're an extension of what you would normally do," Akin said. Caregivers can be scheduled to stay with a family member from a minimum of three hours to 24 hours. They can help out around the house, cook, do laundry, help dress the family member, make sure they don't fall if they're a fall risk, or just spend time with them from watching tv to doing crossword puzzles.
"They can help with things your loved one may not be able to do themselves," Akin said. "It gives you, as an adult child, peace of mind knowing someone is there."
Akin said she is from a small town and went through the experience of not having someone who could be with her mother on a regular basis when she was ill.
Dickerson added that people don't have to think of Home Instead as something permanent. "We can work on a vacation schedule or if you just need a break from caregiving and want to get away to Memphis for the weekend," he said.
Home Instead's caregivers are thoroughly screened and trained, and Home Instead offers a veteran's program.
Home Instead's Jonesboro office serves eight counties. Akin said they are hoping to open a Marked Tree branch office in February which will allow them to cover counties further south.
For more information on Home Instead, call 870-933-6247 or visit www.homeinstead.com/478.