Indians reach semi-finals with win over Rector
Thursday, February 21, 2013
Marked Tree (21-9) used a balanced scoring attack as 10 players scored points as the Indians downed Rector 67-46 last Wednesday to reach the semi-finals of the Class 2A-3 district tournament at Marmaduke.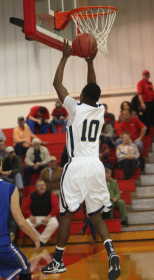 Darius Ivy, Allen Buchanan and Connor Fields combined to score the first 10 points for the Indians as they led 10-5 with 2:12 left. Ivy had four, Buchanan three and Fields three during that span. Rector cut it to 10-8 before Ivy canned a three from the left wing at 1:22 to make it 13-8. Buchanan got a base line jumper to fall and Ivy drilled a three-pointer from the top of the key with two seconds left in the first to set our score at 18-12 Marked Tree.
The Indians opened the second period with a 10-0 behind back to back jumpers from Buchanan and DeAngelo Griffin making it 22-12. Daniel Rucker and Ivy converted back to back conventional three-point plays to push the lead to 28-12. The Cougars got a couple free throws only to see Ivy and Chris Montague grab offensive rebounds and score consecutive baskets to make it a 32-14 Marked Tree lead. Ivy hit one of two free throws and Brian McKinney got a basket inside after a Rector score to make it 35-16 Indians as the half.
The third period didn't see much offense as the Indians outscored Rector 11-6. Ivy had a couple baskets in the period along with Fields, Buchanan and Griffin each scoring a basket in the period. Montague had started the period off by hitting one of two free throws after being fouled. Marked Tree led 46-22 at the end of three.
The final period saw a frenzy of scoring as the teams combined for 47 points. Terry Carter scored the first five points for the Indians as he scored while being fouled and hit his free throw. Carter scored inside again after a Cougar basket to make it 51-24 Marked Tree. Rector cut the lead to 52-30 before Ivy found Griffin for a bucket inside making it 54-30. Rector went on a 10-2 run to close the gap to 56-40 with 2:36 left to play. Marked Tree missed only one free throw down the stretch as they went on to the 67-46 win.
"First half I think we came out with focus and it showed," Marked Tree coach Barbara Wilburn said after the game. "We executed well and got scoring from a lot of players, that and defense is what we will need to advance," Wilburn added.
Ivy and Buchanan were the only players in double digits as they had 22 points and 13 points respectively.
Marked Tree (21-10) played Riverside last Thursday night in the semi-finals and were handed a 108-85 loss by the Rebels. Buchanan had 33 points in the loss.
Marked Tree will play Walnut Ridge Thursday, February 21 in the opening round of the Class 2A North Regional at Sloan-Hendrix.