Lady Warriors battle in tournament loss to Riverside
Thursday, February 21, 2013
The EPC Lady Warriors kept the game close the entire night only to see Riverside hit six of six free throws in the last 45 seconds of the game to hang on to win 59-53 in the Class 2A-3 district tournament last Wednesday at Marmaduke.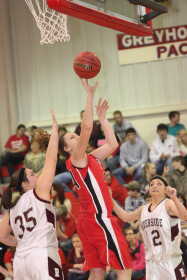 The Lady Rebels went up 2-0 early before Alicia Ross hit a little jump hook and Teria Young canned a three-pointer to give EPC a 5-2 lead. Riverside came back with five straight points to take the lead 7-5. Young nailed another three putting the Lady Warriors up 8-7. Riverside got back to back buckets to make the score 11-8. Ross scored inside to cut it to 11-10 and Riverside scored with four seconds left to leave the score 13-10 Riverside after one.
The second period was just as close as the first as the lead never got bigger than four points. EPC tied the game as Ross was fouled while making a basket and hit her free throw to make it 13-13 with 6:52 left. Synteria Ward hit a three-pointer after back to back Riverside baskets to make the score 17-16 Lady Rebels. Ross hit a jumper and then got inside for a score to tie the game at 20 with 2:26 left before half. Ward grabbed an offensive rebound and scored in between two Riverside baskets that made the score 24-22 Riverside at halftime.
Hannah Hinton tied the game at 24 for EPC with a jumper at the 7:39 mark. The Lady Rebels went on a 9-3 run to go up 33-27. Ross scored all the EPC points in the run with a free throw and a bucket down low. EPC fought back to make it 34-33 as Hinton scored inside and Ross scored four straight on two free throws and an inside score. Hinton hit another jumper at 1:16 to cut the lead to 40-35. Ward hit two free throws after Riverside did the same making the score 42-37 after three periods of play.
Hinton and Young hit back to back shots to pull the Lady Warriors to within 42-41 a minute into the final period. The teams swapped the next four scores before Hinton hit a jumper from the free throw line to tie the game at 47 with 4:41 left. Riverside took a 51-48 lead with 3:24 left before both teams went cold with no scoring until there was 44 seconds left in the game. Young hit two free throws and a three-pointer in the last 44 seconds but it wasn't enough as the Lady Rebels hit six free throws and got a basket inside to help secure the 59-53 win.
"You always hate for it to be over and you really hate for it to be over when you didn't play your best game," EPC coach Bobby Lewallen said after the game. "Riverside had a lot to do with that as they took us out of our game with their defensive game plan and they stuck to it," Lewallen added. "I hate for our seniors who have had good careers here."
Ross led the Lady Warriors in scoring with 21 points. Young added 15 points and Hinton finished with 10 points for EPC.
The Lady Warriors finished the season with a 10-11 record.