Lady 'Jackets down rival to win championship
Thursday, February 21, 2013
Second-seeded Bay (22-8) had four players score in double figures as the Lady 'Jackets beat top-seeded Weiner to claim the Class 1A-3 East district title this past Saturday at Bay.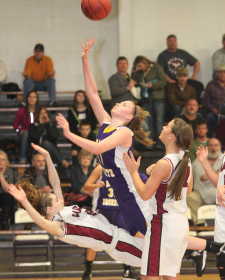 Bay jumped out to a 7-2 lead as Brittany Roedel canned a three to open the game for the Lady Yellowjackets. Peyton Craft scored inside to make it 3-2 before Katie Ferguson got a bucket and Sara Sharp hit two free throws for Bay. Allegra Melton scored down low before Craft hit two free throws to make it 7-6 Bay. Willard hit an inside shot and then made two free throws after being fouled to put Bay up 11-6 with 3:45 left in the first. Jaden Malone and Roedel swapped two free throws before Willard made two free throws to make it a 15-8 game. Craft got an offensive rebound for Weiner and scored, Willard answered with bucket for Bay and Craft hit one of two free throws to set our first period score at 17-11 Bay.
Weiner got hot in the second period and Bay went cold as the Lady Cardinals outscored the Lady 'Jackets 19-7 in the period. Willard put Bay's lead at nine with a three-ball to open the second period. Weiner came back with buckets from Melton and Kaci Mack, the latter being a three-pointer, to cut the lead to 20-16. Sharp hit a jumper in the lane for Bay and Weiner got a free throw from Melton and a basket from Craft making it 22-19. Willard hit two free throws before the Lady Cardinals went on a 11-0 run to end the period. Malone canned another three before she added two free throws followed by Melton connecting on two free throws. Mack hit one of two free throws and Hunter Lewis drilled a three-pointer with four seconds left to put Weiner up 30-24 at the half.
Bay returned the favor in third as they outscored Weiner 16-8 in the period to lead 40-38 going into the fourth. Roedel hit a three to open the second half making it 30-27. Ferguson got Bay to within one with a basket at 6:11 to make it 30-29. Weiner got back to back scores from Malone and Melton to give Weiner a 34-29 lead. Roedel hit another three-ball and Willard got a bucket to tie the game at 34. Melton and Lewis sandwiched a bucket and two free throws around two free throws from Sharp to make it 38-36 Weiner with 3:00 left to play. Sharp made two more free throws and Lynch scored a bucket with eight seconds left to put Bay up four heading to the final period.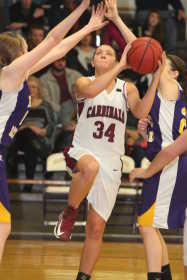 The final period was a scoring frenzy for both teams as Bay outscored Weiner 22-19 to take the win. Bay opened with a 13-4 run to push the lead to 53-43. Willard hit two three-pointers during the run for Bay as Weiner got a basket from Craft and a three from Lexi Smith. The next four minutes saw the teams exchange baskets and free throws with Bay holding a 61-51 lead with 44 seconds left. Weiner made a push in the last minute of the game outscoring Bay 6-1 but it wasn't enough as the Lady 'Jackets took a 62-57 win.
"It feels good but we have to remember last year coming off an emotional high and then having our season ended four days later in regionals," Bay coach Chad LaRose said after the game. "Excited as we are we are going to cherish this tonight and get back to work tomorrow," LaRose added.
Willard led all scorers on the night with 21 points. Roedel netted 13 points with Sharp and Ferguson both scoring 10 points for Bay.
"We didn't stick to our game plan and foul trouble hurt us as we had to finish the game with four players on the court," Weiner coach James Halitzka commented after the game. "We hope to fix the problem and get ready for regionals," Halitzka added.
Craft led Weiner in scoring with 19 points. Melton chipped in 15 for the Lady Cardinals.
Bay will open with Norfork on Wednesday, February 20 in the Class 1A Region 2 Regional with Weiner playing Mammoth Spring Thursday, February 21.