Bay claims the crown
Thursday, February 21, 2013
Bay (33-4) made it a sweep of district titles as they followed the girls' with a 63-50 win over the Weiner Cardinals to claim the boys' Class 1A-3 East District title this past Saturday at Bay.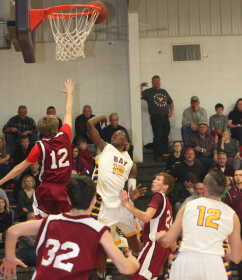 Bay jumped out to an early 11-4 lead only to see Weiner claw their way back in. Tyler Pritchett opened the scoring for Bay with a three-pointer from the left wing for a 3-0 lead. Dylan Loven made it 5-0 with a lay up off a fast break. Alex Nicholson scored baskets around another Pritchett three-pointer to make it 8-4 Bay. Zack Johnson canned a three from the left wing to make it 11-4 with 4:58 left. Weiner got a three-ball from Alex Jones and Brad Craft got an offensive rebound and scored to make the score 11-9. Pritchett got a steal and went in for a lay up to make it 13-9 before Weiner reeled off seven straight points to make it 16-13. Nicholson hit a jumper in the lane, Drake Melton drilled a three-pointer and Burl Tate made two free throws with no time left on the clock.
The second period saw the game slow down with neither offense producing many points. Tyson Oliver scored his first points with a three-pointer from the top of they key to tie the game at 16. Tate answered with a three to put Weiner up 16-13 and Oliver answered that with another three to make it 19-19. Asa Walker gave Weiner a 21-19 lead with a jumper before scored the next seven to lead 26-21 at the half. Oliver hit his third three of period followed by a baseline jumper. Kylor Skaggs got a steal and scored on a lay up.
The teams came out with new life in the third period. Pritchett put Bay up 28-21 with a basket to start the third. Tyler Armstrong answered with a bucket for Weiner before Bay got back to back scores from Loven and Skaggs to make it 32-23 'Jackets. Jones hit a baseline jumper for Weiner, Oliver made two free throws and Craft hit one of two free throws to make it a 34-26 game. Bay got two free throws apiece from Loven and Jonathan Crain to make it 38-26 before Melton canned a three and Nicholson made one of two free shots cutting the Bay lead to 38-30. Loven sank a couple free throws followed by a Melton three-ball to make it 40-33 Bay. Oliver was fouled and hit two free throws before Logan Bray hit a three-pointer to make it 42-36 Bay headed to the final period.
The offenses stayed hot as the fourth period saw a flurry of scoring. Bray cut the lead to 42-38 with a basket to open the final period. The teams swapped points before Oliver hit a jumper followed by a three-pointer from Johnson to push Bay's lead to 49-40 with 5:57 left. The next couple minutes saw Bay score twice every time Weiner put up points as the 'Jackets stretched the lead to 55-44. Loven had six points during that span for Bay. Bay outscored Weiner 7-6 the last three minutes of the game to post the 63-50 win.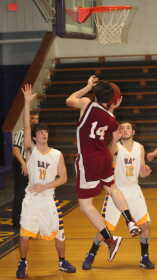 "We never got going very fast so the tempo of the game hurt us," Bay coach Brad Brannen said after the game. "I thought we battled hard. Weiner battled and played a good game tonight," Brannen added.
Oliver was the leading scorer on the night with 24 points for Bay. Loven added 16 points and Pritchett tossed in 10 points for the Yellowjackets.
"We did exactly what we wanted to making it a physical contest as we hung in and was down only five at half," Halitzka said after the game. "We came out and had a good third period and never put our head down," Halitzka added.
Nicholson led the Cardinals with 13 points as Melton finished with 11 for Weiner.
Bay opens Class 1A Region 2 Regional play with Norfork Wednesday, February 20 while Weiner will play Calico Rock Thursday, February 21 at Strawberry.