THS senior qualifies for All-State 1st Band
Sunday, February 24, 2013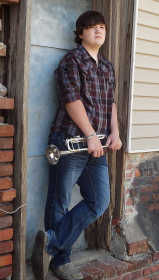 Eric Jackson, a senior at Trumann High School and son of William and Tonya Jackson, was one of nine trumpeters in the state who qualified for the All-State 1st Band in Hot Springs, Ark., on Saturday, Feb. 16. Jackson has been blessed with not only musical abilities, but academic success with a current perfect 4.0 grade point average, as well.
Recently, Jackson accepted a position in the trumpet section of Arkansas State University's band. He will be attending the university with highest scholarship ASU offers, the Astate Scholar Scholarship, worth $56,000 over a four-year period.
"My family is my inspiration in all academics," said Jackson. "They always push me to be the best I can be in order to provide a good future for my own family when I get older."
He will be the first in his family to attend college, and looks forward to pursuing his journey towards becoming a Mechanical Engineer with a minor in Music Performance. Although he knows that the engineering field is tough, math and analytical thinking has always come very natural to Jackson.
"I like a challenge, and I think going into the engineering field will really enable me to demonstrate my fullest academic potential," said Jackson.
With a self-driven personality and an interest in music, Jackson has managed to receive countless All-Region Jazz Band and Band awards. He has played the trumpet for the Trumann band for six years. Although his true talent is found through the trumpet, he has self-taught himself to play the guitar and piano.
"Music just really clears my mind and makes everything better," said Jackson. "Even after I pursue my career, I plan to always have time allotted to play music with or without an audience."
In addition to his music awards, Jackson has clearly succeeded academically with awards like Excellence in Education and voted Most Likely to Succeed by his classmates. He is a member of the National Honor Society and serves as President of the Trumann High School band.
"I'm not really involved in clubs or other activities, because music and academics tend to consume all of my time," said Jackson. "I love both, and want to do my best in both. In order to do my best, I have to give all the time I have."
With his self-determination and hard work, Jackson is a well-rounded student with exceptional abilities in music and academia.