Col. Overbay talks JROTC at Rotary
Tuesday, February 26, 2013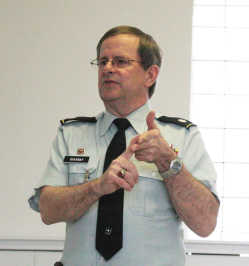 Colonel Clarence Overbay has been a JROTC (Junior Reserve Officers' Training Corps) instructor at Marked Tree High School for 12 years. Last week, he spoke with the Marked Tree Rotary Club about the program.
Together with Sergeant First Class Donald Perry, a Marked Tree graduate, Col. Overbay sees around 60-70 students go through JROTC every year. Col. Overbay said some of the objectives for JROTC are motivating young people to become better citizens, developing leadership potential, improving physical fitness, promoting high school competition, and providing incentive to live drug free.
"The majority of students in JROTC never go into the military," Col. Overbay said. He added that JROTC does not push students into the military or show favoritism to one branch over another when a student does show interest in joining.
One of the important things worth teaching for Col. Overbay is civics. He encourages citizenship and makes sure students know how to vote, how to make a decision, and how different levels of government work.
"JROTC is not just about marching," he said. They also study history, geography, first aid, and financial planning. He said many students may have some idea where they want to be a year from graduation but have no idea how much it will cost.
JROTC has several teams including color guard, drill team, marksmanship, orienteering, and an academic team. The academic team has gone to national competition four times in Virginia.
Among the biggest benefits of JROTC, Col. Overbay cited scholarship opportunities and discipline. "In 12 years I've only had to send one student to the office," he said.
One of the things that makes working with students worthwhile for Col. Overbay is seeing them overcome obstacles in the lives. He talked about one student he remembered who was the first person in his family to graduate from high school and stay out of jail.
Currently, Col. Overbay is working on a program to take a group of students to Washington, D.C. "I like to see everything we can see because it's something they will remember for the rest of their lives," he said.
Marked Tree is one of 27 schools in the state with a JROTC program. Col. Overbay said it is the smallest district in the state, and probably in the nation, to have a JROTC program.