Dungan joins Lion's Club
Monday, February 25, 2013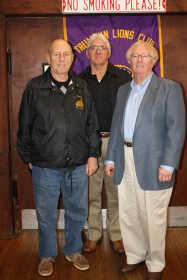 The Trumann Lion's Club inducted Mike Dungan into membership at last week's weekly meeting, with Barry Wood as a sponsor. Dungan is also a member of the Trumann School Board.
"With about 1.4 million members, the Lion's Club is the world's largest and most active service organization," said club President Ronnie Harrison. "We offer many opportunities that help develop personal growth. We look for big things from you, [Dungan]."
Harrison also recognized member Sandy Teague with a pin of appreciation for bringing in the most new members to the club. Betty Paine, District Governor for the Lion's Club, was awarded the International President's Achievement Award with a crystal pin and plaque and the Fast Start Award in appreciation for her contribution to membership growth.
"District seven is the only district increasing in membership, while everyone else is really struggling with it," said Paine. "We are very grateful."
The speaker at the meeting was Bonnie Thompson, Vice President of Unico Bank. Thompson said the bank has been in existence in Trumann since the '70's, and has eleven different branches in the area including Trumann, Harrisburg, and Marked Tree.
"We offer every kind of loan you can find from agriculture and commercial to home loans," said Thompson.
She spoke in depth of the many different checking accounts that Unico offers with the majority being of no cost to the customer. "We have free checking, as well as, business checking with no service charge," she said. Thompson also mentioned that the rates at Unico are very competitive and their extended drive-thru hours, from 8 a.m. to 7 p.m., make it convenient for those who work regular day jobs. The bank is also open on Saturdays from 9 a.m. to 2 p.m.
Not only is Unico in the business of banking, they serve in helping the communities, as well. According to Thompson, the bank has helped with donating different prizes for different activities in their areas. Their employees are willing volunteers in the community, too
Thompson presented the Lion's Club members with a tape measure. "When you look at the tape measure, you can say 'Does my bank measure up'," she said.
As a testimonial for Unico, Paine said the bank provided many different items for two past conventions held in Trumann.
"Bonnie contributes to the community of Marked Tree by preparing baskets of different items for the Chamber of Commerce to present to the businesses in the town to show appreciation for their business," said Teague in her own testimonial for the bank's community service.
In other business, Paine announced to the club that the Literacy League is looking for volunteers for the new Poinsett County branch located at Trumann Intermediate School. "It is only three hours a week, and it is an important need in the community," said Paine. "Anyone able is encouraged to get involved. After all, our motto is 'we serve.'"