'Jackets roll in opener
Friday, March 1, 2013
Bay (35-4) opened play in the Class 1A Regional tournament last Tuesday with a 87-37 win over Norfork at Lynn.
The teams traded baskets in the early going with Zach Johnson scoring both Bay baskets as Norfork took a 6-4 lead. Dylan Loven and Johnson hit back to back three-pointers to make it 10-6 Bay with 5:10 left. Bay went up 14-11 with Loven and Matt Holt hitting baskets before Norfork hit back to back shots to take a 15-14 lead. Bay answered with a 14-0 over the last two minutes of the period to take a 28-15. Johnson and Tyson Oliver hit back to back three-balls to make the score 20-15. Tyler Pritchett got free for a lay up before Loven drilled a three and Oliver scored a conventional three with two seconds left in the period.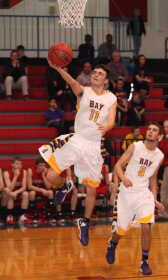 Bay continued their run by reeling off the first seven points of the second period. Oliver drained a three from the top of the key before hitting two free throws. Pritchett got inside for a basket to put Bay up 35-15. Norfork six of the next eight points to cut the lead to 37-21. Bay got the hot hand and scored 16 straight points to take a commanding 53-21 lead. Kylor Skaggs and Oliver got back to back scores before Loven scored the next 10 points for the 'Jackets. Loven drilled a three before grabbing a rebound and going the length of the court for a lay up. Loven drilled another three and then got inside for a score to make it 51-21. Holt added a score at 1:12 to set the halftime score at 53-21.
Bay again came out fast as they went on a 10-2 run in the first minute and a half of the third period. Holt netted a three-pointer and Pritchett made a shot while being fouled. His free throw was good to make it 59-21. Norfork got a basket before Johnson got a steal and lay up and Pritchett had a tip in to make it 63-23 Bay. Norfork got back to back scores making it 63-27 only to see Bay get an basket from Oliver and a three-pointer from Pritchett to make the score 68-25. Norfork again got back to back baskets making it 68-29. The team traded points for the rest of the period with Holt hitting two free throws and Skaggs and Jonathan Crain each getting a basket as the period ended with Bay up 74-37.
The final period saw the mercy rule in effect the whole time as both team substituted throughout the period. Bay outscored Norfork 13-0 take a 87-37 victory. Crain hit two free throws before Garrett Hampton drilled a three pointer to make it 79-37. Mark Taggart hit four straight free throws to push the Bay lead to 83-37. Michael Willard hit a jumper and Taggart got a alley-oop slam off a throw in from Dylan Rush to set the final score at 83-37.
"I didn't think we played very good on defense at the start of the game," Bay coach Brad Brannen said of his team after the game. "We played well after that. I think our half court trap gave them some problems, we have been working on that all year," Brannen added.
Loven led Bay with 20 points on the night as Oliver netted 15 points and Johnson and Pritchett both added 12 points each for the 'Jackets.
Bay played Hillcrest in the semi-finals and came up short in a close game, 62-60