Indians down Bobcats to advance to semi-finals
Friday, March 1, 2013
Marked Tree raced out a 12-0 lead and never looked back as the Indians opened the 2A North Regional tournament with a 63-51 victory over Walnut Ridge at Imboden. The win set up a semi-final contest against the EPC Warriors.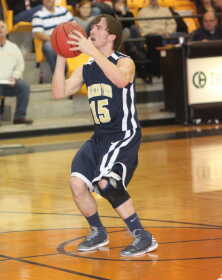 Darius Ivy gave Marked Tree a 1-0 lead as hit one of two free throws after being fouled. Daniel Rucker made it 4-0 with a three-pointer from the left wing. Allen Buchanan scored back to back lay ups before Ivy made back to back baskets to put the Indians up 12-0. Buchanan hit two free throws with three seconds left to put the Indians up 14-2 after the first period.
Buchanan scored back to back baskets with the second being a monster slam making the score 18-4 Indians in the opening minutes of the second period. Rucker nailed another three between Bobcat baskets to make it 21-8 with 5:08 left before half. Rucker hit his third three of the half and Buchanan hit a jumper in the lane to make it 26-8. Walnut Ridge outscored Marked Tree 10-4 to make it 30-18 at the half. Chris Montague scored all four points for Marked Tree during the Bobcats run.
The teams swapped baskets the first two minutes of the third period with Rucker hitting two three-pointers for Marked Tree to make the score 36-24 Indians. Montague was fouled and hit two free throws before the Bobcats scored six straight points to make it 38-30 with 3:36 left in the third. Marked Tree got back to back scores from Ivy and Buchanan to push the lead to 42-30. Rucker hit one of two free throws from a technical foul against Walnut Ridge to make it 43-33 Indians. DeAngelo Griffin canned a three-pointer from the left wing and Ivy got in for a lay up before Walnut Ridge got a conventional three-point play late in the period to make it 48-38 after three.
Marked Tree answered the first three Walnut Ridge scores with back to back scores to keep the Bobcats at bay. Montague and Buchanan got back to back inside scores after the first Walnut Ridge score as Buchanan hit one of two free throws before slamming down an alley-oop pass from Ivy with 2:45 left to put Marked Tree up 55-43. Ivy scored back to back after the third Walnut Ridge score of the period to make it a 59-45 game. The Bobcats cut it to 11 before Ivy scored inside to make it 61-48. Griffin closed out the scoring with two free throws with 40 seconds left as the Indians posted a 63-51 win.
"I thought we played a very good first half," Marked Tree coach Barbara Wilburn commented after the game. "Our intensity was good and the defense played really well," Wilburn added.
Buchanan led a trio of Indians in double figures with 19 points. Rucker added 16 points and Ivy 15 points for Marked Tree.