EPC tops MTHS in tourney
Friday, March 1, 2013
Rivals EPC and Marked Tree met in the semi-finals of the Class 2A North Regional this past Saturday at Imboden. The Warriors came out strong building a double digit lead less that half way through the opening period as they went on to a 70-52 win.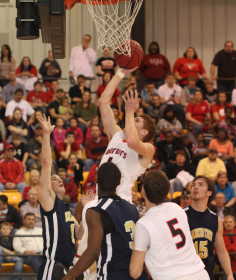 "We set the tone defensively tonight," EPC coach Josh Hill said about his team.
The Warriors jumped out to a 13-1 lead in the first four minutes of the game. Aaron Scales and Jammar Sturdivant got back to back baskets to put EPC up 4-0. Allen Buchanan was fouled and hit one of two free throws to make it 4-1. EPC reeled off the next nine points as Byron Scales nailed a three-pointer, Malik Monk and Paul Pilgrim got back to back buckets inside and Sturdivant made a a lay up. Buchanan stopped the run with a jumper at 3:14 to make it 13-3. Sturdivant answered with a jumper and Aaron Scales grabbed an offensive rebound and scored to push the lead to 17-3. Connor Fields hit one of two free throws and Buchanan scored down low to make it 17-6 Indians. Chris Whitfield and Byron Scales both got shots to fall as the Warriors lead 21-6 when the first period ended.
Monk got the crowd excited as he took an alley-oop pass from Sturdivant and slammed it home to start the second period and make it a 23-6 EPC lead. Marked Tree got a conventional three-point play from Ivy and then a three-pointer from DeAngelo Griffin on the left wing to cut the Warriors lead to 23-12. Monk slammed another one home and Byron Scales scored down low to make it 27-12. Ivy and Sturdivant traded baskets before Buchanan hit a jumper while being fouled. The free throw was no good as the score stood at 29-16 with 4:47 left. The teams traded the next four baskets to make the score 34-20. Monk got free for a round house slam followed by a jumper from T.J. Young to stretch the EPC lead to 38-20. Griffin hit two free throws, Monk canned a three and Daniel Rucker hit a pair of free shots to make it 41-24 with 1:00 left. Monk and Sturdivant hit back to back jumpers to send the Warriors to half with a 45-24 lead.
The third opened with the teams trading the first six baskets of the period. Fields made two baskets and Rucker netted a three for Marked Tree as Byron Scales scored twice and Pilgrim once for EPC to make it 51-31 EPC. Rucker hit another three-pointer before Byron Scales hit one of two free throws followed by back to back baskets from Monk and Pilgrim to push the lead to 56-34 Warriors. Buchanan hit two free throws before Quinn Young scored inside and Sturdivant canned a three with two seconds left to give EPC a 61-36 lead heading into the final period.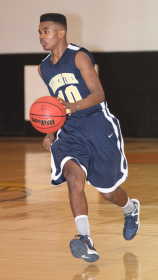 Sturdivant opened the fourth with a three-pointer and Monk hit a jumper to make it 66-36 and invoke the mercy rule for the rest of the game. Buchanan got inside for a score before Monk slammed another home to make it 68-38. Marked Tree scored the next ten points as Ivy made back to back buckets, Buchanan had a slam dunk, Griffin hit a jumper and then followed with two free throws to make it 68-48 EPC. Zach Maddox scored inside for EPC to make it 70-46 before Griffin closed out the scoring with a jumper and hitting two of four free throws to set our final at 70-52.
"We played pretty well tonight, hit our shots and ran our sets well," Hill added.
Monk led EPC with 19 points as Sturdivant had 16 points and Byron Scales 12 points for the Warriors.
"We didn't play very well tonight and didn't match their intensity at all," Marked Tree coach Barbara Wilburn said after the game. "We didn't play an overall good game and EPC can cause you to do that," Wilburn added.
Buchanan and Griffin both had 15 points to lead Marked Tree.