EPC falls short of regional title in battle with Cedar Ridge
Friday, March 1, 2013
EPC and Cedar Ridge squared off for the Class 2A North Regional tournament title this past Monday at Imboden. EPC led early but Cedar Ridge slowly pulled away each period on their way to the 60-54 win.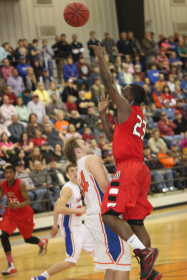 Cedar Ridge jumped out to a 5-0 lead before Malik Monk hit a long three-pointer from the left wing followed by a jumper to tie the game at 5. Paul Pilgrim took a nice pass from Jammar Sturdivant and scored to give EPC a 7-5 lead. Monk hit another three-pointer with 1:46 left to make it 10-7 Warriors. Sturdivant grabbed an offensive rebound and put it back in between two Cedar Ridge basket to make the score 12-11 EPC at the end of one.
T.J. Young made it 14-11EPC with a basket to open the second period. The Timberwolves took the lead at 16-14 before Sturdivant got inside for a score and Young drilled a three-pointer to put EPC back in front 19-16 with 6:10 left. Neither team scored over the next two minutes as both defenses stiffened. Cedar Ridge then proceeded to score the six points to take a 22-19 lead into the locker rooms.
The teams traded three-pointers to start the third with Monk hit a long three from the left wing to make the score 25-22 Cedar Ridge. Cedar Ridge stretched the lead to 30-22 before Strudivant hit two free throws and Monk hit a jumper in the lane to make it 30-26 with 3:57 left. Cedar Ridge scored the next nine points to make it 39-26. Pilgrim hit a jumper in lane before Cedar Ridge hit a three with eight seconds left make it 42-28 Cedar Ridge heading into the fourth period.
Cedar Ridge stretched the lead to 45-28 before Monk made two free throws and Aaron Scales hit a jumper to cut the lead to 45-32 Timberwolves. Sturdivant got a steal and a lay up and Byron Scales hit a three-pointer to make it 48-37 Cedar Ridge with 4:30 left. Strudivant drained a three from the left wing then made a conventional three-point play to cut the Cedar Ridge lead to 50-43. Quinn Young scored after grabbing an offensive rebound and Monk hit a jumper in the lane to make it 54-47. Aaron Scales hit a three-pointer to cut it to 56-50 with 1:46 left. Byron Scales scored with a minute left Sturdivant scored late but Cedar Ridge hit enough free throws to post a 60-54 win and the claim the regional title.
"They made shots and we didn't," EPC coach Josh Hill said after the game. "We didn't play very well on defense," Hill added.
Monk finished with 17 points and Sturdivant 16 points for EPC.