Lady Cards win regional crown
Friday, March 1, 2013
The Weiner Lady Cardinals (28-11) clinched the Class 1A Region 2 Regional tournament title this past Monday with a 52-30 win over Viola at Lynn.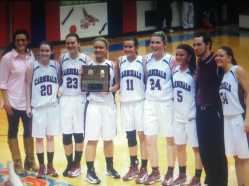 Peyton Craft led Weiner with 28 points as Kaci Mack netted 11 points for the Lady Cardinals.
Weiner got to the championship game by defeating Mammoth Spring 57-38 last Friday in their opening round game. Weiner came back on Saturday and defeated host Hillcrest 63-62 to reach the championship game.
Craft led the Lady Cardinals with 28 points and Mack added 13 points for Weiner against Mammoth Spring as Craft and Allegra Melton both scored 17 points to lead Weiner in the win over Hillcrest.