THS welcomes Waymire as new football coach
Friday, March 1, 2013
Trumann hired Scott Waymire from Carlisle, Ark., as the new head football coach for the upcoming year. Waymire holds a record of 71-18-1 in seven seasons at Carlisle. In 2011, he took his team all the way to the state championship game.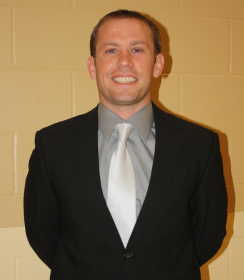 Some of his other coaching achievements at the school include winning conference championships four times, 2A State Semi-Finalist two years in a row, 2A State Quarter-Finalist twice, being named Arkansas Democrat Gazette Coach of the Year in 2007, 6-2A Coach of the year four times, and Hooten's 2A Coach of the Year in 2011.
"He has an outstanding record and reputation," said Assistant Superintendent David Rutledge. "He can't wait to meet the students and prepare for Trumann Football. He is ready to be Wildcat."
Waymire met with the Trumann School Board and Coaching staff on Monday, Feb. 26, where he said he looks forward to working with the football program, school, and the community of Trumann.
"We are very excited about Trumann, excited about the challenge," said Waymire. "Trumann has had success in the past. They have tradition, and I'm looking to revamp that."
He is ready to see the change in Trumann, not only with the football program, but with the whole town. Waymire has been hired on as the assistant principal of Cedar Park Elementary, as well. His philosophy for football and administration is to produce good citizens.
"I encourage students to overachieve and work hard in the classroom and on the football field," said Waymire. "A good person has hard work, dedication, and loyalty, and that's what I plan to instill in these young men."
As a coach, one of his ambitions is to make the football program competitive on a statewide level. He said he plans to make the program fundamentally sound on both sides of the ball.
"My goal is to teach football in a manner that is stimulating and challenging to players," he said. "We do not want to be average."
Superintendent Graham said she, along with the school board, is very pleased with Waymire's plans to invest himself in his family into Trumann. Waymire is bringing his wife, Michelle, and three children to the community. One of the most important aspects when looking for the new football coach was community and student involvement.
"We believe he is going to bring great things to Trumann and get the players excited about football," said Graham.
Waymire will begin on July 1. Until then, he will be making contact with his work at Trumann as much as possible while juggling his current position as High School Principal for Carlisle School District.