EPC Senior to go to UCA
Sunday, March 3, 2013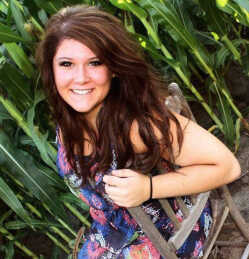 Sarah Hattle, daughter of Janie Hattle and the late Stan Hattle, is a senior at East Poinsett County High School with dreams of going to the University of Central Arkansas. Hattle is well on her way to making those dreams come true with an outstanding transcript in academics.
With all of her accomplishments, she has qualified for several different financial aids including the Arkansas Challenge, local scholarships, and a university scholarship from UCA. So far, Hattle is declaring undecided for her first year of college.
"Both of my parents have been teachers, so I am leaning that way, but I really have no idea where I will be in the end," said Hattle.
She has considered all possibilities from culinary to nursing school. At this point, she is just excited to be meeting new horizons.
"Growing up in a small town, you learn very quickly that there's more than what's here," said Hattle.
Her small-town family has been a motivating factor in her work ethic and academic success. Her brother, Aaron Hattle, was valedictorian of his class, and he set the bar for her achievements. "He showed me you can go out and leave everything behind, and get something done in life," she said. "My parents were also very good motivators, and always wanted me to do well."
The major event in Hattle's life that inspired her to work to her fullest potential was the death of her father just a few short years ago. Her and her dad held a very close relationship.
"I really kicked it in gear when my Dad died, because he always wanted me to excel," said Hattle. "A lot of what I achieve, I see as a kind of memorial for him, because that is the best of what I can give him."
Although Hattle wishes to stray away from the small-town life, she commends the teachers and students for maintaining a family-like setting throughout her ultimate hardship. She said the teachers at EPC High School have continually inspired her to be more than just the top of her high school class.
"Now that I have gone through the death of my dad, stuff doesn't even touch me anymore," she said. "I think that will be the biggest contributor in the end to my success, because nothing can phase me away from my goal to be successful."
After everything, Hattle's only real goal is to have success, which in the end is just a peace of mind.