Baker talks service with Lion's Club
Monday, March 4, 2013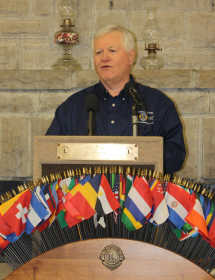 Brad Baker, chief executive officer for the Mid-South Lions, was the special speaker for the Trumann Lion's Club at last week's meeting. Baker stressed the need for the Lions in various ways including sight and hearing services, and general community services.
"We should be proud of what we do around the country and around the world," said Baker. "Do not ever limit your service at all. Do not limit what you can do for your community."
According to Baker, 80 cents of every dollar raised for sight care is by the Lion's Club. He briefly talked about the Lion's International being involved in the Special Olympics. Surprisingly 30 percent of the Olympians had no problem with mental or physical deficiency, they were only vision impaired. Baker said this truth became apparent with help of Lion's International.
Baker said the Lion's Club participates in many trips to third world countries in order to help with sight and vision. The Mid-South Lions Sight and Hearing Service treats patients from four states including Arkansas, Mississippi, Missouri, and Tennessee with 11 locations within the states. He told the Lion's Club a few stories of instances where the Mid-South Lions have made a difference.
"There are 110,000 families in our four state area in need," said Baker. "I see the need for our services all the time."
The Mid-South services survive only on club contributions. Baker said they have an 18-month waiting list due to not having enough funds to accommodate everyone.
"Imagine being without sight for 18 months," said Baker. "That's why we continuously raise funds."
Baker asked the Trumann Lion's Club to help find grants within the area and to participate in an upcoming gold tournament in Memphis, Tenn., on May 20.
"Lions you have made us Champions of Change," he said. "We need your help, and the people who need our help need you."
Baker inducted two new members, Gene Terry and Gary Cochran, at the meeting to be workers for the community. Both new members were sponsored by Barry Wood.