Milner talks fishing with Trumann Rotary
Tuesday, March 5, 2013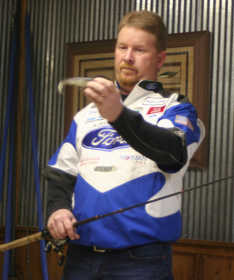 According to professional bass tournament fisherman Kerry Milner, the fish are always biting somewhere. You just have to know where to look.
Milner recently spoke to the Trumann Rotary Club about tournament fishing. He said he had fished in several Northeast Arkansas tournaments, but it was picking up a sponsorship from Arkansas Ford Dealers in 2006 that allowed him to step up his game and compete at higher levels. He has been named Angler of the Year in two divisions and qualified for the All American tournament two years in a row.
One of the biggest challenges for him was going out and finding the fish. "You can't worry about what other people do," Milner said. "It mattered what I did. I had to learn the places that are easier to catch fish to win a tournament."
Milner said when he realized 75% of people fish the banks but only 10% of the fish are there, he became an offshore fisherman. "The pressure on the banks pushed the fish offshore," he said.
He also brought some equipment to show examples of, including a deep diving crank bait, a swim bait, and an Alabama jig. He explained that the crank bait covers a lot of water fast and is used to find where the fish are. After he finds them, he likes to slow things down and use a swim bait, which looks more realistic and is more apt to fool fish. "The last few years, I've won more money with a swim bait than any other," he said.
He showed a couple examples of an Alabama rig, which is a multi-armed rig carrying up to five lures, one on each arm. Milner said he was fishing 50 feet from Paul Elias when he put the Alabama rig on the map in 2011 with the first tournament win using the rig. "When it works, it works well. It's really heavy. You'll get a lot of muscle aches learning to throw it," Milner said. He pointed out the rig is strictly a fall or wintertime bait.
Milner tries to fish every week and has two tournaments a month scheduled from now until June, when he will compete in the All American on Nickajack Lake in Chattanooga, Tenn. "It's like the Super Bowl of bass fishing," Milner said. Only 49 fishermen in the country qualify for the tournament. This will be his second year to go.