Celebration honoring Bailey is March 9
Thursday, March 7, 2013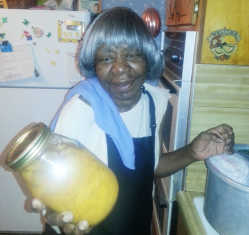 Family and friends will gather with Ms. Etta Jean Bailey to celebrate and honor her life and legacy on Saturday afternoon, March 9, beginning at 1 p.m. at Pilgrim Rest Christian Church in Jennette, Ark., located in Crittenden County, where Ms. Bailey has been a member for approximately 60 years.
Etta Jean was born in Lepanto to Rachel Powell and Luther Bailey, their only girl child. She has one living sibling, Sidney Bailey of Memphis. She has been very active in her church working as Sunday School Secretary, Choir Director among other positions. She cans, quilts, and visits and assists with the needs of the elderly and infirm. Ms. Bailey has been quite active in the community, worked at election polls and still votes regularly.
Ms. Bailey has four children: Rene Henderson (Jim), Neal Bailey (Ursula), Michael Bailey (Tara), and James Walker (Ivory) and a host of nephews, nieces, cousins, long time neighbors, friends and former co-workers.
For more information call Michael at 901-691-9695, Neal at 870-792-7900 or Rene 501-697-1947.