Trumann Chamber holds annual banquet, awards ceremony
Saturday, March 9, 2013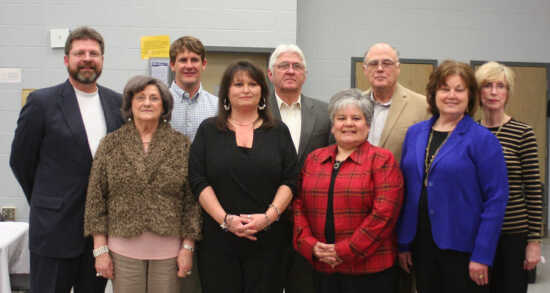 The Trumann Chamber of Commerce held their annual banquet Monday, March 4.
Awards went to Cedar Park Elementary P.E. teacher Cindy Martin for Outstanding Educator, Tommy Garahan for Citizen of the Year, Bradley Jackson for Excellence in Agriculture, Linda Ragsdale-Smith for Outstanding Chamber Member, Rick Gillette for Outstanding Chamber Board Member, Trumann Auto Parts for Business of the Year, and the Trumann Lions Club for the 2012 Community Service Award.
During the banquet, Chamber Executive Barbara Lewallen gave an overview of industry and business in Trumann. "All too often we look around and think nothing is going on. We tend to focus on things that are negative," Lewallen said. "I want to dispell the negative comments. Trumann is really just like every community around us. We are all having the same issues, and everybody is always working to improve."
Lewallen said a false 40 percent unemployment rate figure is often tossed around. She said the actual unemployment rate in 2012 for the county was 8.3 percent, while Trumann's rate is 7.4 percent and Craighead County's is 6.4 percent.
Lewallen talked about economic activity in Trumann, saying 200 privilege licenses were issued last year and sales tax has increased the last two years. She also mentioned Trumann Schools' enrollment is up 40 students this year, the school put computers in every student's hands with its 1:1 initiative, and the school is working toward implementing project-based learning.
She talked about grant money the city has been awarded. There is currently $533,000 made up of both grants and private funding earmarked for constructing a new adult education center, and Gillis Construction just won the bid to start work on the grant-funded 15 acre detention pond to relieve flooding.
"I'm optimistic about the community," Lewallen said. "We have the advantages of living in a small town and access to amenities of a larger community.