Trumann Health Fair is Tuesday
Monday, March 11, 2013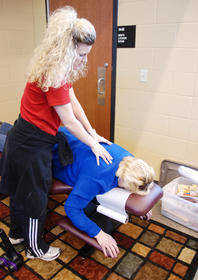 Have fun and get healthy. Free screenings for a variety of health issues will be given at the annual community Health Fair at the Trumann High School 2:30-6 p.m. Tuesday, March 12. Over 40 vendors will have booths for screenings, demonstrations and information. The Health Fair will provide information on the various programs available to people of Poinsett County.
Jan Mitchusson, with the Poinsett County Health Department, said "We will have several booths set up, including Stamp Out Smoking, MIP, Medicine Assistance Program and the Health Department Booth." The MIP program is Maternal Infant Pregnancy for new and expectant mothers. Before the birth a nurse will provide 2-3 in home educational visits. After the baby arrives a nurse will come to the home 3-4 times to teach the mother how to care for a new baby. Mitchusson said "In December alone the Medicine Assistance Program saved Poinsett County residents over $400,000 in medicine costs." That booth will also be doing hemoglobin testing. The Health Department will show all the programs they provide such as immunizations, WIC nutrition program, STD testing, TB testing and information on the Breast Care program that provides free mammograms for women over 40.
The Arkansas Prostate Cancer Foundation will have a cancer education and screening available. Men between the ages of 40 and 75 are encouraged to take advantage of this free preventative-health care service. It will include a brief explanation of prostate health and a blood test for PSA, prostate-specific antigen. Men with a family history of prostate cancer and men that are African-American are in high risk populations for prostate cancer and are eligible for screening at age 35.
Helena Family Health Center provides comprehensive primary and preventive healthcare . The center operates as a full-service organization offering medical, pharmacy, laboratory and radiology. The office is located at 417 West Main and is open Monday-Friday 8:30-5:30. Visit their website to learn more about our services www.eafhc.org
Vision screenings and glaucoma screenings will be available by Eye Care of Trumann. Curtis Chiropractic & Wellness Center will be doing spinal screenings; Betts Chiropractic will be giving back and neck massages. Dental offices including Arkansas Dental,and Higgenbotham Dentistry will provide free dental checks.
Free blood pressure checks, cholesterol, glucose and anemia, glaucoma checks and bone density are some of the many tests available.
For fun the Trumann Fire Department will have the fire truck and the always popular "smoke house" available for tours. The Trumann Police Department will have a gun safety demonstration and the DUI Demonstration Course with golf carts.
The public is encouraged to attend the Health Fair and take advantage of the free screenings and information available. Trumann High School is location on W. Main Street.