Student film shown at Community House
Sunday, March 10, 2013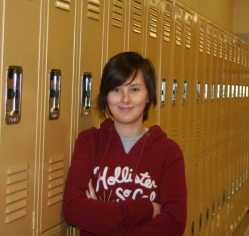 Trumann High School senior Kylie DeFord has been writing and making films for six years. Last Thursday she held her first screening of a short film she wrote, directed, and acted in called "Locker 724 is Empty." Over 50 people attended the screening.
The film looks at the effects of bullying and follows a character named Bobby, an outcast who is bullied by several people at school. His friends try to help him cope, but it doesn't work. "It shows what bullying can lead to," DeFord said.
"It started as a trailer I made for fun. Then I decided to do a short film to see how it goes," DeFord said. The film is based on a short story she wrote four years ago. Filmed mostly at Trumann High School with friends and her sisters, DeFord completed it in five months. Originally, DeFord had only planned to make DVDs of the film to give to the cast, but her father suggested she hold a public screening. DeFord decided she could use the film as a way to stand up against bullying and send a message about the effects of bullying.
"Every single cast member has been bullied in some form or fashion. Each one has their own very emotional story," DeFord said. She said one of the messages of the film is the victim can be helped by helping the bully cope with whatever problems they are facing which are causing them to bully. "If bullies can cope with their lives, they can help others cope with theirs," she said. One of the lines from the film emphasizing this point is, "We can stop bullying. It takes one person. What if that one person was the bully themselves?"
"I want everyone to understand how bullying impacts people," DeFord said.
DeFord is involved in choir and drama club. "I guess they contribute to why I love film so much," she said. She also acted in the play Murder in the Magnolias while making her film. In the future, she wants to teach drama, start small with film, and work her way up toward becoming the next Steven Spielberg.