Dr. Susan Ward-Jones speaks to Lion's Club
Tuesday, March 12, 2013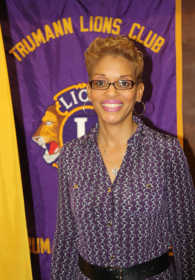 The Chief Executive Officer of East Arkansas Family Health Center, Dr. Susan Ward-Jones, was the speaker at last week's Lion's Club meeting. Ward-Jones has been with the center for 16 years, and gave the club a little background and history behind what they are doing in Poinsett County.
"We have a mission statement to provide accessible, comprehensive, and quality healthcare to communities with emphasis toward the traditionally unserved," said Ward-Jones.
The East Arkansas Family Health Center has two out of five of its locations in Poinsett County including one in Lepanto, 102 West Broad, and one in Trumann, 417 West Main Street.
The center is not-for profit community owned and governed health care organization. Ward-Jones said that they have targeted their locations to be in medically undeserved areas to provide affordable healthcare to those with or without insurance.
"The services are not free, but we do offer medical and dental services at discounted rates," she said. "We are here for those that don't have access."
In 2012, the center saw 12,002 patients with 42,645 encounters. Out of the 12,002 patients seen, 47% of them were uninsured. With these numbers, Ward-Jones encouraged voting for Medicaid expansion for the less fortunate in the state.
She also told the Lion's Club of the various services provided by the center including medical, dental, pharmacy, laboratory, radiology, and transportation. Trumann is the only location not providing dental services at this time. As far as transportation services go, the East Arkansas Family Health Center provides transportation to and from the clinic, as well as, to and from medical visits in Little Rock or Memphis if extensive care is needed.
Ward-Jones mentioned that the Lepanto location will soon be closing on May 1 of this year for cosmetic changes and renovations, and will open again on July 1. She also said that they have received grants for a new location for their office in West Memphis.
"The center really serves a good purpose in the community," she said.
The Lion's Club also heard from Seth Casey, the site director for the Poinsett County Literacy League, about the opening of the new site in Trumann on the Intermediate School Campus. Casey thanked Trumann schools Superintendent Myra Graham and Lion's Club member Betty Payne for their work in contributing to the new site.
"Without them, there wouldn't be a literacy league in Trumann," said Casey.
Payne also announced to the Lion's Club the upcoming golf tournament in April they will be hosting. All proceeds are used for scholarships for Trumann High School students.