Easter bunny tree coming to Marked Tree museum
Wednesday, March 13, 2013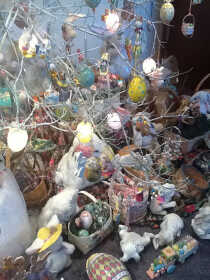 Because of last year's success, the Marked Tree Historical Society is again sponsoring an Easter Bunny Tree at the Marked Tree Delta Area Museum.
The large display of a tree full of miniature bunnies surrounded by bunny rabbits and Easter baskets of all sizes makes for a lovely welcome to spring. Make plans to join the celebration with your children, your grandchildren, and great-grandchildren. The display will open on Wednesday, March 13, and will run through April 10.
Groups are welcome at anytime by arrangement. Regular museum hours are: Wednesday, Thursday, and Friday: 1-4 p.m.
Appointments may be made by calling the museum at 870-358-4998, 358-2121, or 593-2141.