Wildcats get first win
Thursday, March 14, 2013
Trumann got a solid pitching performance from Jay-Ryan Woods as the Wildcats posted a 5-2 win over Paragould in high school baseball action this past Wednesday at Wildcat Field.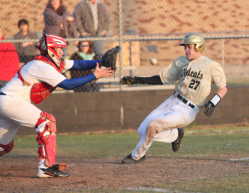 Trumann jumped out to a 2-0 lead after the first inning as Cameron Jones started the game off with a base hit. Jones stole second to get in scoring position. Woods reached first after the catcher missed the ball on the third strike. Josh Evans singled to drive in Jones. Jones got caught in a rundown and was tagged out as Woods went to third. Nate Maxwell singled to drive in Woods.
Colt Collins started the second winning by drawing a walk. Collins advanced to third on a wild pick off throw and came in to score on a ground out by Jones to give Trumann a 3-0 lead after two innings of play.
Taylor Wilson walked to start Trumann's bottom half of the fourth inning. Collins laid down a sacrifice bunt to get Wilson to second. A.J. Winningham singled to put runners on the corner. Wilson scored on a passed ball to give the Wildcats a 4-0 lead.
Paragould pushed a run across as they took advantage of two Trumann errors in the top of the six to make it a 4-1 game.
Wilson singled in the bottom of the sixth and moved to second after Collins was hit by a pitch. Wilson stole third and came in to score on an error putting Trumann up 5-1.
Woods walked the first batter in the top of the seventh and was replace on the mound by Wilson. Wilson got the next batter out but walked the next two to load the bases. The Rams got a run to make it 5-2 when the batter lined out to left and the runner on third tagged and was safe at home. Dillin Vincent fired to third to get the runner coming from second to end the game.
Jones had a hit, run, rbi and two stolen bases for Trumann. Evans collected two hits as Wilson scored two runs for the Wildcats.
Woods went six innings giving up one hit while walking three and striking out 11 to get the win. Wilson ended up with the save as he pitched an inning in relief giving up one run on no hits and two walks.