Warriors fall short of championship
Thursday, March 14, 2013
The EPC Warriors fell short of a three-peat in the finals of the Class 2A state basketball tournament held at Barton Coliseum in Little Rock this past Saturday. Cedar Ridge hit two free throws with 2.2 seconds left to claim the title with a 58-56 victory.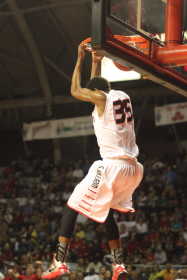 EPC opened the game by jumping out to a 3-0 lead with Byron Scales hitting one of two free throws after being fouled and then sinking two free throws after being fouled again. Cedar Ridge's Cole Crabtree tied the score as he was fouled while making a shot and then making the free throw. Malik Monk hit back to back jumpers around a Cole Crabtree basket to make it 7-5 EPC. Aaron Scales was fouled and hit one of two free throws making it 8-5. Spencer Reaves of Cedar Ridge got back to back inside baskets with Byron Scales making a basket in between to make it a 10-9 Warriors lead. The Timbrerwolves took the lead as Austin Reaves canned a three to make it 12-10 Cedar Ridge. Jammar Sturdivant answered with a three-pointer and then got a steal and went in for lay up to give EPC a 15-12 lead. Cedar Ridge got another conventional three point play from Cole Crabtree to tie it before Monk grabbed his own rebound and scored at the buzzer to give EPC a 17-15 lead after one.
Cedar Ridge tied the game at 17 before EPC reeled off eight straight points to go up 25-17. Chris Whitfield and Sturdivant hit back to back three-pointers and Monk stole the ball and went in for a backward slam dunk to electrify the crowd. Byron Scales hit one of two free throws between baskets by Cole Crabtree and Spencer Reaves to make it 26-21 EPC. Byron Scales and Monk got back to back inside baskets to stretch the lead to 30-21. Cedar Ridge was called for a flagrant foul on Monk's basket and Monk hit both free throws to make it 32-21. Spencer Reaves hit a jumper with less than a second left and was fouled. His free throw was good to cut the EPC lead to 32-24 at the half.
EPC ran the lead back out to 11 early in the third as Sturdivant hit a jumper and Byron Scales got one of two free throws to fall to make it 35-24. Whitfield hit a base line jumper in between Spencer Reaves baskets to make the score 37-28 Warriors. Monk drilled a three from the right corner to put EPC up 40-28 with 2:02 left. Cedar Ridge scored the last nine points of the period to cut the lead to 40-37. Spencer Reaves hit back to back inside shots around a Cole Crabtree inside basket and then Spencer Reaves hit a three-ball with three seconds left.
EPC pushed the lead to 44-37 with a Paul Pilgrim basket and two free throws from Aaron Scales early in the fourth period. Spencer Reaves sandwiched three-pointers around a Sturdivant basket to make the score 46-43. Spencer Reaves cut the lead to one after making two free throws from a foul by Pilgrim. Monk and Cole Crabtree traded baskets before Monk and Spencer Reaves traded three-pointers to make the score 51-50 EPC. Byron Scales missed two free throws before Spencer Reaves got his own rebound off a missed shot and scored give the Timberwolves a 52-51 lead. Monk drained a three from the right wing to put EPC back out in front 54-52. Spencer Reaves again got a rebound off his miss and scored to tie the game at 54. Monk went the length of the floor for a lay up before Nate Easley of Cedar Ridge scored inside to tie it at 56. Cade Crabtree was fouled by Pilgrim with 2.2 seconds left. Crabtree made both free throws to put Cedar Ridge up 58-56. EPC could not get off a final shot as the Timberwolves claimed the state title.
"We didn't do a good job of keeping the ball out of Spencer Reaves hands," EPC coach Josh Hill said. "They just kept coming. Reaves is a really good player," Hill added. "We are young and hope to learn from today and be right back here next year."
"I got in foul trouble and that hurt the team," Sturdivant said. "I could never get in rhythm because of the foul trouble and I take the blame for that," Sturdivant added.
"We came up short," Monk said after the game. "We didn't' rebound well and they hit the big shots," Monk added.
"We got down early but had a lot of fight left in us," Timberwolves coach Issac Middlebrook of his team. "Cole Crabtree hit some big shots for us tonight and then freshman Cade Crabtree hit those free throws at the end," Middlebrook added.
Monk led the Warriors on the night with 25 points followed by Sturdivant with 12.
Cedar Ridge's Spencer Reaves, tournament MVP, led all scorers with 35 points. Cole Crabtree finished with 16 points for the Timberwolves.