Lady Cardinals complete stellar season
Thursday, March 14, 2013
The Weiner Lady Cardinals faced off against the Nevada Lady Blue Jays in the championship game of the Class 1A girls state basketball tournament at Barton Coliseum in Little Rock last Saturday. Nevada overpowered the Lady Cardinals and took the crown with a 51-31 victory.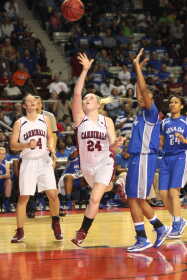 Nevada got on the board first as Brianna Mullins got inside for a basket and was fouled by Jaden Malone. Mullins' free throw was good for a 3-0 lead. Peyton Craft answered for Weiner as she scored inside to make it 3-2. Nevada reeled off the next eight points to go up 11-2. Craft worked her way inside again for a score to make it 11-4 Nevada. The Lady Blue Jays scored back to back buckets with the later being a three-pointer by Mullins to go up 16-4 with 1:34 left in the first. Craft scored again to cut the lead to 10 but Nevada's Aspen Blakely was fouled as she scored and she hit her free throw to put Nevada up 19-6 after one period of play.
Craft opened the scoring in the second period to make the score 19-8 Nevada. Malone and Allegra Melton scored back to back buckets to cut the Lady Blue Jays lead to 20-12 with 4:09 left before half. Nevada answered with back to back scores to push the lead back to 24-12. Melton was fouled while making a shot and her free throw was good to make it 24-15. Nevada got a jumper from Mullins with just under a minute left and Craft scored the last points of the half with a score down low as the teams went to half time with Nevada up 26-17.
Nevada got a three-pointer from Blakely and an inside bucket from Chiantis Robertson to go up 31-17 with just over a minute gone in the third period. Kaci Mack hit a running jumper and was fouled with 5:38 left. Mack's free throw was good making it 30-20 Nevada. Mullins scored the next two baskets for Nevada before Mack got inside for a score to make the score 34-22. Melton and Mack scored back to back buckets down low to cut the Lady Blue Jays lead to 36-26. Mullins pushed the Nevada lead to 13 with a three-pointer with two seconds left to make the score 39-26 headed into the final period.
Craft cut the lead to 11 with a score before Nevada scored the next eight points to go up 47-28 with 3:53 left in the game. Melton hit a jumper for Weiner and Mack hit one of two free throws after being fouled to make the score the 47-31. Nevada hit two free throws and a jumper over the last 1:30 to set the final at 51-31.
"We went down 12 early and never could catch back up," Weiner coach James Halitzka said. "We let Mullins take over the game," Halitzka added. "We made her (Mullins) take tough shots and she hit them, she's a solid player," Halitzka said.
"We never put our heads down and kept going," Mack said after the game. "Hopefully we'll have another chance, we'll find out Monday," Mack said fighting back tears. Mack was referring to vote that will take place to see if the Weiner campus will close.
Melton thanks the fans that supported them all season. "They were still behind us even we got our runner up trophy. That was nice to see," Melton said.
"We thought if we jumped out on them early we might could control the game," Nevada coach Stacy Cornelius said of her team. "We have a good group of seniors on the team," Cornelius added.
Craft led the Lady Cardinals in scoring with 14 points.
Tournament MVP Brianna Mullins scored 32 points for Nevada.
Weiner finished the season with a 31-12 record while Nevada was 37-2.