Arkansas Supply Sergeant is in high demand in Afghanistan
Saturday, March 16, 2013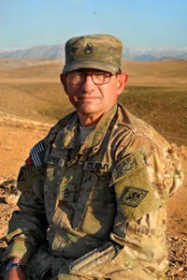 TARIN KOT, Afghanistan -- As part of the 1039th 'Razorback' Engineer Company out of the Arkansas National Guard, Non Commissioned Officer Staff Sgt. James B. Duboise is a soldier in high demand at Multi-National Base Tarin Kot, Afghanistan.
Staff Sgt. Duboise is the supply specialist and his motto about procurement from the U.S Army Supply Discipline Program is "if you name it... I will get it".
On June 29, 2012, the Arkansas Razorback National Guard Supply Sergeant mobilized to Ft. Bliss with his team and deployed three months later to Multi National Base Tarin Kowt, Afghanistan as part of Combined Team Uruzgan, where he is responsible for accounting for over $42 million dollars worth of property and equipment assigned to his company.
"He is so critical to the Razorback's mission that without him all day to day operations would cease," said Executive Officer 1st Lt. Patrick Byerly, 1039th Engineer Company, Arkansas National Guard.
His day to day operations include ordering, receiving, inspecting, and inventorying weapons, ammunition, and parts and equipment for the Soldiers assigned to the 1039th Engineer Company. As well as helping his Australian and U.S. Coalition force counterparts with their logistic needs.
"I like helping people," said Staff Sgt. James B. Duboise. The supply sergeant contributes his good work ethic to his parents. "They taught me good morals and values and every day I strive to live by their example."
Duboise has been in the service for over 29 years. He enlisted in the Marine Corps in 1980 as a Food Service Specialist where he served at Camp Pendleton from 1980 to 1983. In 1983, he had a break in service. He missed serving his country so after talking extensively to his wife he decided to re-enlist into the Arkansas Army National Guard in 1988. And in 1998 Duboise changed his occupation from Food Specialist to Supply Specialist.
"As a supply Specialist, I am responsible for ensuring my unit is mission capable. I like this responsibility so much that in 2005 I applied for full time duty in the National Guard," Duboise said.
Duboise was born and raised in Trumann. and attended Trumann High school where he met his wife Pam Duboise who he has been married to for over 30 years. He and Pam have two children and two grandchildren.
His daughter and her 4th grade class at Boone Park Elementary in Little Rock, Ark has kept morale high during his deployment to Afghanistan by sending letters and cards to Duboise and the Razorback team.
"I always take time to write letters back to the students at Boone Elementary," Duboise said. Just a few days ago the kids received a bunch of letters from the Arkansas soldiers in the mail. "My daughter said the class was so excited that they asked if they could stop what they were doing and read the letters from their Soldiers."
When Duboise redeploys later this year he has already made plans to visit the elementary class and thank the students for their support in person. In his spare time he also plans to continue his work as a high school football equipment manager and volunteer firefighter in Trumann.