New breakfast program shows positive results
Sunday, March 17, 2013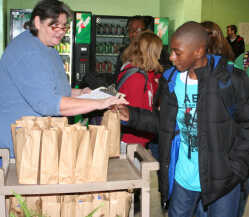 At the monthly Marked Tree School Board meeting, the board heard from Superintendent Annesa Thompson about the new breakfast initiative in the high school. The new program began on Jan. 9, offering students free breakfast to pick up and take with them before class begins.
With the district absorbing the food costs, Thompson said they were concerned initially of the sustainability.
"As of now, forty percent more of the students are eating breakfast; and we are not incurring a significant financial cost," said Thompson.
The data is based on only the first month of the new grab and go initiative; however, the board is hopeful that the numbers will continue to increase. The superintendent mentioned that there have been no complaints of messes with the new system. The board was very pleased with the progress.
"The greatest feedback is the increase in numbers," said Thompson. "It seems to be successful financially and helping children to eat."
The board also received positive feedback for Marked Tree Schools from a grade inflation report, mandated by the state of Arkansas. The report is based on end of course exams taken by students and grades obtained in the classes for the end of course.
"Primarily, they are looking at schools whose grade inflation is twenty percent or higher," said Thompson.
Marked Tree had a grade inflation of 7.7 percent, which is approximately only three children who had received a B average in a class, but below proficient on the end of course exam.
"It's a very good report and we are working toward zero percent," said the superintendent.
She also informed the board about the new Teacher Excellence Support System, a statewide evaluation system that is to be implemented in the 2013-14 school year. Schools have the option of waiting until next year to adopt the system or piloting it in now. Eleven schools in Arkansas have already piloted the system.
"We are leaning more toward piloting the system, but right now I just want to inform the board of what is going on," said Thompson. "We are trying to think through this very carefully."
The new system has four domains on the rubric for teachers including planning and preparation, the classroom environment, instruction, and professional responsibilities. It involves extensive training for principals and teachers in order to provide a high quality education to students through the best classroom instruction and instructional leadership.
In other business, the board:
*accepted the resignation of Jessica Lange, effective at the end of her current contract.
*accepted the recommendation to hire Kathy Johnson as the high school secretary, effective July 1.
*heard from board member Mike Dabney, commending Mr. Kelly and the Mock Trial team's recent performance.