Rhoads talks suitcases for kids
Wednesday, March 20, 2013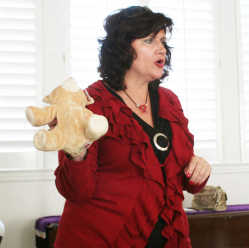 Tom Rhoads, who is on the board for United Way of Northeast Arkansas, recently spoke to the Marked Tree Rotary Club about a program aimed at helping children through CASA (Court Appointed Special Advocates). The program is Suitcases for Kids, and its goal to raise funds and take in items for children who unexpectedly have to be taken out of their homes due to abuse or neglect.
According to Rhoads, 540 children were taken out of their homes in Northeast Arkansas last year. Rhoads compared those children's feelings on being taken out of their home to visiting a foreign country and having one's luggage lost, money and passport stolen, and being unable to speak to the language. "It's so hard to fathom if you came from a loving family and environment," Rhoads said.
CASA came to the United Way and asked for help with this program, which puts together duffel bags full of items like a blanket, toothbrush, toothpaste, soap, shampoo, conditioner, deodorant, and a stuffed animal. The duffel bags are then given to the children as a way to show they are cared for and to help ease their transition.
Rhoads said they are in need of donations of either items or money for the program. They are aiming to raise enough to fill 540 duffel bags to distributed throughout Northeast Arkansas. Of the children taken out of their homes last year, 81 were in Poinsett County, she said. Twenty-five dollars takes care of a complete bag for one child.
"Let's make children that have to be taken out of Poinsett County homes know they're loved and appreciated," Rhoads said.
The United Way office in Jonesboro is one of the drop-off points for donations. Persons wanting more information on how or what to donate can call Rhoads at 870-375-9181.