Trumann senior works toward athletic achievement
Thursday, March 21, 2013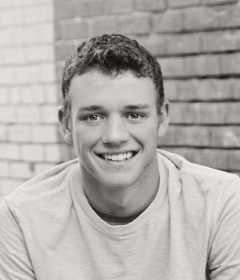 Cameron Jones, son of Bobby and Rhonda Jones of Trumann, has been working his way into the world of sports his entire life, not only with his physical abilities, but academic abilities, as well.
Jones is a senior at Trumann High School and will be graduating as an honor graduate in May. He plans to attend Arkansas State University or Arkansas Baptist where he has been offered a position on the baseball team. He has received academic scholarships for both schools, and been accepted into the Arkansas State University Honors College.
"My parents really push me to do the best I can in and out of school," said Jones. "I'm very grateful for the way they only accept the best, because it's helped me become a better and more successful person."
He said his family was very important to him, driving him even further to be successful in his career to support his future family. Besides his parents and brothers, Jones added that money was one of his motivating factors to do have academic success, as well.
"I knew the better I did in school, the more scholarships I would receive to go to college and pursue a career in sports," he said.
For his future career plans, Jones is working toward becoming an athletic trainer to keep him around sports, where he is most content.
"I think it's what I will be happiest with. Most people can't say that they are satisfied with their job, and I know that I will be," said Jones.
Although Jones plays in baseball, football and basketball, his ultimate preference is baseball. He describes it as a sport that can show each individual team member's character, strategy and success, as well as, the team's effort as a whole. "I love the outdoors, too, which is another reason to love baseball," said Jones.
Like academics, he has been successful in sports with his brothers, Jordan and Preston Jones, as a motivating factor.
"My dad and brothers always drove me to be better than the competition," he said. "They taught me that if I wanted something to come out of playing, I had to work hard, which led me to the competitive nature that I have today."
Along with his academic and athletic success, Jones has been involved in the Science Club, National Honor Society, Student Council, and the East program at Trumann High School. In East lab, he recently worked on a reading project for the Cedar Park first graders involving Trumann's new and improved technology. In addition to his involvement in clubs, he has volunteered several service hours to his community.
"Through my career and life, I just want to be happy while helping others enjoy sports and just life in general," said Jones.