Barbara Wilson
Thursday, March 21, 2013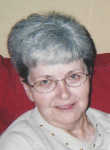 TRUMANN - Mrs. Barbara Lee Wilson, 70, of Trumann died Friday March 15, 2013 at the family residence. She was born in Silver Creek, Miss., and had lived in Trumann since 1960 coming from Keiser, Ark. Mrs. Wilson was a homemaker, Sunday school teacher and member of the Anderson Tully Baptist Church. She was preceded in death by one sister, one brother and her parents, William and Cora Lee Dennis Dickerson.
She is survived by her husband of 52 years Roy Wilson of the home; two sons, Blake Wilson and Scott Wilson both of Trumann; four grandchildren, Daniel Wilson, Audra McClung, Gabe Wilson and Elizabeth Wilson; and four great-grandchildren.
Funeral services were March 17, 2013 in the chapel of Thompson Funeral Home in Trumann with Rev. William Whitlock and Rev. Ricky Dobbins officiating. Burial followed in the Jonesboro Memorial Park Cemetery in Jonesboro, Ark.
Pallbearers were Dan Wilson, Gabe Wilson, J. J. Morgan, Jerry Ming, Bill Wilson and Tommy Wilson.
Honorary pallbearers were Eddie Hatcher, Brett Provose, Jim Tubbs, Larry Worship and Sonny Willis.
An online register book can be signed at www.thompsonfuneralhome.net.