Bud Deiss
Thursday, March 21, 2013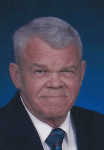 TRUMANN - Mr. Walter Emil "Bud" Deiss, 74, of Trumann died Friday, March 15, 2013 at Flo & Phil Jones Hospice House in Jonesboro, Ark. He was born on January 30, 1939 to the late Walter and Rachel Deiss. Mr. Deiss was born in Marvell, Ark., and had lived in Trumann for the past 38 years, was a retired owner/truck driver, sobriety member for 37 years of Alcoholics Anonymous and of the Catholic faith.
He is survived by his wife of 34 years, Margaret Parks Deiss of the home; two sons, Johnny (Tammy) Deiss of Birmingham, Al., and Kenneth (Crista) Deiss of Horseshoe Lake, Ar; one step-daughter, Susan (John) Jones of Houston, TX., two step sons, Thomas (Beth) Hale of Russellville, and Kelly (Ro) Hale of Houston, Texas; seven grandchildren and ten great grandchildren: Three sisters, Patsy Stonell of Greenville, SC, Martha (Bill) Helms and Marietta "Dumpy" (Don) Stimpson of Clarksville, AR; as well as several nieces, nephews and multitude of family and friends.
Funeral services were March 18, 2013 in the chapel of Thompson Funeral Home in Trumann with Father Jack Vu and Dr. Tad Rogers officiating. Graveside services were Monday afternoon in Schaffhauser Cemetery three miles west of Marvell, Ark.
Friends and AA member are honored to serve "Bud" as pallbearers; Don Smith, Don Webb, Carroll Feeser, Lewis Mahan, Jim Stotts, Bobby Chastin, Rodney Stotts and Jimmy Stotts Jr.
An online register book can be signed at www.thompsonfuneralhome.net.