Geneva Kirkland
Thursday, March 21, 2013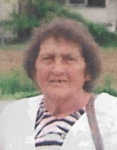 TRUMANN - Mrs. Mary Geneva Kirkland 76 of Trumann, died Friday, March 8, 2013 at Hometown Nursing Center in Trumann, Ark. She was born and a lifetime resident of Trumann. Mrs. Kirkland was a former employee of Salant and Salant in Marked Tree, she retired from Rosecare Nursing Center and of the Baptist faith. She was preceded in death by one sister, one brother and her parents, Avery Shotgun and Vivian Poff West.
She is survived by two sons, Stanley Wayne Kirkland and Rex Dale Kirkland both of Trumann; one sister, Katherine Foster of Trumann; two grandchildren, Josh Kirkland and Ashley Whitman and four great-grandchildren.
Funeral services were March 12, 2013 in the chapel of Thompson Funeral Home with Bro. Ricky Dobbins officiating. Burial followed in the Holly Springs Cemetery near Harrisburg, Ark.
Pallbearers were Ronald Bryant, Billy Clark, Kenny Daniels, Robby Deason, Kenny Kirkland, Tommy Kirkland and John Smith.
An online register book can be signed www.thompsonfuneralhome.net